List of Types of Agricultural Machinery
Talk

2
Share
Ad blocker interference detected!
Wikia is a free-to-use site that makes money from advertising. We have a modified experience for viewers using ad blockers

Wikia is not accessible if you've made further modifications. Remove the custom ad blocker rule(s) and the page will load as expected.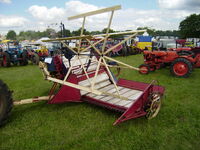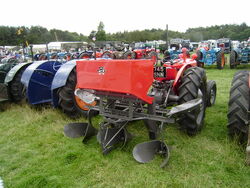 Agricultural Machinery is any kind of machinery used on a farm to help with farming. The best-known example of this kind is the tractor. A special group is Self Propelled Machinery.
Self Propelled Machinery
Edit
List of farm implements
Edit
Soil cultivation

Edit

Broadcast seeder (alternately: broadcast spreader or fertilizer spreader)
Transplanter

Fertilizing & Pest Control

Edit

Irrigation

Edit

Harvesting / post-harvest

Edit

Hay making

Edit

Miscellaneous

Edit

Obsolete farm machinery

Edit

Steam-powered:
List of Implement & Aggricultural Machinery Manufacturers
Edit
See also
Edit
Roll over protection structure ROPS

Adapted from