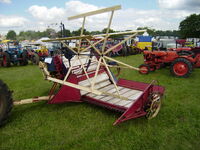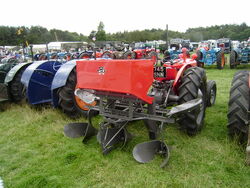 Agricultural Machinery is any kind of machinery used on a farm to help with farming. The best-known example of this kind is the tractor. A special group is Self Propelled Machinery.
Self Propelled Machinery
Edit
List of farm implements
Edit
Soil cultivation

Edit

Fertilizing & Pest Control

Edit

Drainage & Irrigation

Edit

Harvesting / post-harvest

Edit

Hay making

Edit

Miscellaneous

Edit

Obsolete farm machinery

Edit

Steam-powered:
List of Implement & Aggricultural Machinery Manufacturers
Edit
See also
Edit
Roll over protection structure ROPS

Adapted from
Ad blocker interference detected!
Wikia is a free-to-use site that makes money from advertising. We have a modified experience for viewers using ad blockers

Wikia is not accessible if you've made further modifications. Remove the custom ad blocker rule(s) and the page will load as expected.