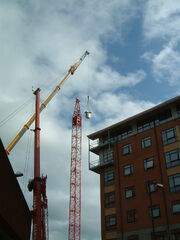 Ainscough Crane Hire are a large UK Mobile Crane hire company, with cranes from 15 ton to 1000 ton capacity and lift heights of 150 m with fly jibs, for working on the biggest buildings and erecting wind turbines.
Company history
Edit
The company is based in Wigan Lancashire were Ainscough is an ancient local name.
add more details of the companies history here.
In the 200? they took over the rival company of Crane Services, who had built a fleet of modern high performance cranes of up to 500 ton capacity.
Crane hire
Contract lift
crane testing
Training
specialist installation services
Crane fleet
Edit
Add list of models here
References / sources
Edit
External links
Edit
Ad blocker interference detected!
Wikia is a free-to-use site that makes money from advertising. We have a modified experience for viewers using ad blockers

Wikia is not accessible if you've made further modifications. Remove the custom ad blocker rule(s) and the page will load as expected.