Allelys
Talk

0
14,944pages on
this wiki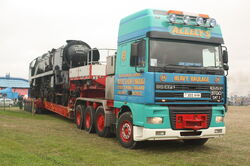 Allelys Heavy Haulage are based in Studley, Warwickshire. and the firm was founded by Morris Allely in 1959.
About the Firm
Edit
The Firm specialises in moving rail locomotives and regularly moves them for heritage railways and for the TOC's for refurbishment.
Tractor Units
Edit
Daf 95XF with space cab T300 AHH fleet no 38. Tractor unit adapted with extra axle and rated at STGO Cat 3 for 150 ton operation.
DAF 8x4 XF 480 250t
DAF 8x4 XF 430 250t
DAF 8x4 XF 480 150t
DAF 8x4 95 430 150t
DAF 6x4 95 430 150t x 2
DAF 6x2 XF 530 100t
DAF 6x2 XF 430 100t
DAF 6x2 95 430 100t
Volvo 6x4 FL12 420 120t
Goldhofer modular trailer system with well and girder beams set to rail gauge so no need to fit a length of track on top, thus saving 300+ head room. Rear is a 4+2 steerable unit with height adjustment. Neck fitted with winch for loading.
Preservation
Edit
The following vehicles are in Preservation in Alleys Livery. (It is not clear if they are owned by Allelys or are in private ownership as they were not listed in the show catalogue for the event, but the event is held very near Alleys yard).
References
Edit
External links
Edit