Allis-Chalmers Model G
Model history
Model introduced
1948
Model discontinued
1955
Model status
Discontinued
Superseded by
Allis-Chalmers G2
Engine Specification
Engine make
Continental
Engine model
N62
Power hp
10
Power kW
7.5
Governed rpm
1800
Displacement cu in /(litre)
62 cu in
No. of Cylinders
4
Bore in (mm)
2-3/8 in
Stroke in (mm)
3.5 in
Cooling system
Water
Transmission Details
Transmission type
non-synchronized
Forward
3
Reverse
1
Drive
2WD
Linkage Category
Unknown
Other info
Factories
Gadsden, Alabama, USA
Plow rating

Unknown
The Model G was unique for it's rear-mounted, Continental N62 engine. It was a four-cylinder engine with a 2-3/8 x 3-1/2 inch bore and stroke. The Model G was designed for small farms and vegetable gardeners, and had it's own line of implements specifically designed for it, including ploughs, planters, and cultivators. The design of the Model G allowed for a great view of the belly-mounted implements.
Later on, the Hefty G, GBT 2000, John Blue G-1000 and Saukville tractors were all based on the AC G design.
The Model G was manufactured solely in the factory in Gadsden, Alabama, USA, from 1948 to 1955. 29,976 units were built, which is less than Allis-Chalmers had originally hoped for. The Model G had a 5 gallon fuel tank, weighed 1,285 pounds, and was rated at 10 hp (7.5 kW) at the drawbar (Tested at 10.33 belt and 9.04 drawbar). The engine had a displacement of 62 cubic inches and was rated at 1800 RPMs. The transmission was a non-synchronized three-speed with reverse.
Preservation
Edit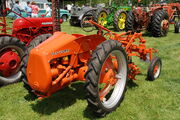 Very few of this model were imported into the UK, its tool-carrier tractor design competed with locally built tractors like the David Brown 2D, the bean tractor and other similar models built at that time in the niche Market garden market.
Known examples
add detail here of individual tractors
Notable People - associated with the tractor industry
Inventors
Ad blocker interference detected!
Wikia is a free-to-use site that makes money from advertising. We have a modified experience for viewers using ad blockers

Wikia is not accessible if you've made further modifications. Remove the custom ad blocker rule(s) and the page will load as expected.