Ad blocker interference detected!
Wikia is a free-to-use site that makes money from advertising. We have a modified experience for viewers using ad blockers

Wikia is not accessible if you've made further modifications. Remove the custom ad blocker rule(s) and the page will load as expected.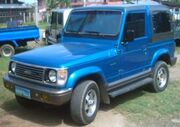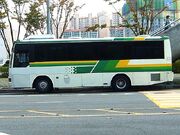 Asia Motors Co. Ltd., founded in 1965, was a South Korean motor vehicle manufacturer of large and medium duty trucks, special military vehicles, lightweight cars, civilian jeeps (a small jeep look-alike called the Rocsta and later the Asia Retona), motor vehicle components, to include engines, and buses and mini-buses. Kia owned 28.28% of issued stock. It was completely merged with Kia (itself by then owned by Hyundai) in 1999 and Asia Motors currently has no automobile production.
The Australian Asia Motors distributors, now an independent company called Asia Motors Australia, continues to use the Asia Motors name but now sources its products elsewhere.
The Rocsta's replacement, the Retona, was sold under the Kia badge.
700 Naebong-dong, Seo-gu, Gwangju 502-711
+82 62 3703114
+82 2 7801037
Car/Jeep/SUV
Edit
Small / medium-sized buses
Edit
Large bus
Edit
External links
Edit
Early Makes - pre 1940s

1940s to 1980s

Modern post 1980s

Independents
North America

Europe

India & Pakistan

Middle East
(Turkey, Iran,
Iraq, Syria etc...)

Far East
(Australasia, China,
Japan, Korea, Thailand,
Vietnam etc...)

South America
(Argentina, Brazil,
Uruguay etc)

Africa

Asia
(Russia, Tajikstan,
Uzbekistan, Ukraine)

Specialist types of tractor

Notable People - associated with the tractor industry

Inventors