Aveling-Barford
Talk

2
14,503pages on
this wiki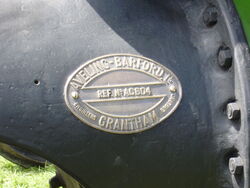 Aveling-Barford was formed In 1934, by Aveling & Porter merging with Barford & Perkins. The current owners of the Aveling-Barford name Wordsworth Holdings went into administration in early 2010.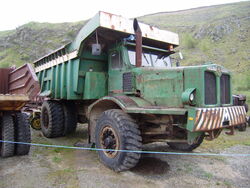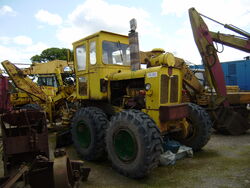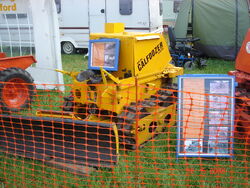 The company was formed by the merger of two famous firms, following the collapse of the AGE group. After World War II the company continued to make motor and steam rollers as well as expanding into other construction equipment. They were still building stem rollers in 1945, with some being produced at the Vickers factory in Newcastle. In 1946 they introduced the G series of Diesel rollers, which had been designed pre war. This was followed by the Aveling Austin 99H Grader, (licensed from an American design). The Shuttle dumper was a popular product as well, with a lot exported to india in 1963.
They moved into building Loading shovels as well, with a range of 8 models from 1.0 cuM to 3.8 cuM. Also building the PM model pneumatic roller, as well as other small plant for a time.
In 1967 they became a part of the British Leyland groups special projects.[1] Aveling-Barford was part of the Thomson group of companies, which also includes Moxy articulated dump trucks for a period in the 1980s. Under Leyland ownership Marshalls road roller interests were merged with Aveling-Barford's and Renamed as Aveling Marshall. the Aveling-Barford division concentrating on Dump trucks and Graders. The firm of Goodwin, Barsby & Co. of Leicester was also part of the group at one stage. They manufactures Concrete mixers, tar macadam plant and latter became known for quarry stone crushing equipment.
The Aveling-Barford name and some of its products passed from the Thomson group to an investment company called Wordsworth Holdings that owned several engineering firms and operated from part of the Aveling-Barford works in Grantham. The company built the Barford range of site dumpers.
In early 2010 Wordsworth Holdings called in the administrators as a victim of the construction recession and the banking crisis.Fruehauf trailer brand in the UK.
Wordsworth also owned the
Barfords & Barfords of Belton
Edit
Main article: Barfords
The Old Aveling-Barford factory in Grantham is now occupied in part by Barfords Dumpers a division of Wordsworth Holdings Group. Barfords originally split off from Aveling-Barford in the 1950 to build the Site dumpers which they still build and the dairy equipment business at the Belton factory, as Barfords (Agriculture) Ltd. the name later changed to Barfords of Belton Ltd. Following the demise of AB in 1988, Duncan Wordsworth purchased the rights to the Aveling-Barford name and some of the products along with the factory. They now build some of the RD range of Dump trucks to order and refurbish older machines, as well as manufacturing the Barford site Dumper line at the Grantham factory. (see Barfords for details of line up).
Some early Aveling-Barford machines and the former Barford & Perkins company used engines by Peter Brotherhood Ltd the manufacturer of Peterbro tractors, and a supplier to Coventry Simplex Co. and Fowler of Leeds for early tanks. As part of the rescue from AGE, part funded by Ruston & Hornsby the firm moved to Ruston's former factory site in Grantham and had to buy certain parts like castings and engines from them. Ruston & Hornsby engines were used for a number of years mainly in the rollers. Ruston & Hornsby also built rollers but withdrew from this market as part of the deal, as they switched production to Lincoln and concentrated on Excavators, cranes and Engine building.
Later machines used Lister Petter engines in the rollers. And in in the Leyland era there was a attempt to move to using Leylands own engines in the dump trucks and other machines but reliability problems hampered this.
In the 1950s Avelings built graders under license from the American Austin Western company and they were sold under the Aveling-Austin brand name.
Construction Plant
Edit
Calfdozer (compact dozer used by railways for back filling)[1]
Photos of Calf dozers _ http://mysite.wanadoo-members.co.uk/Calfdozer2
Off Highway Rigid Dump Trucks
Articulated Dump Trucks
Bulldozer
Road Rollers
Motor Graders
Site Dumpers - Production transferred to Barford
Wheel Loaders
Model Range
Edit
Steam Road Roller Model Range
Edit
Preserved Steam Rollers
Edit
Please add any known machine details to the list.
Click Here to edit list.
Diesel Roller Models
Edit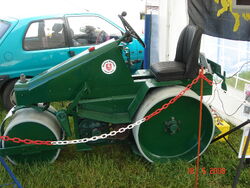 Preserved Diesel (Motor) Rollers
Edit
The Road Roller Association's Motor Roller Register lists circa. 150 Aveling-Barford motor rollers that are known to survive, but very few are seen at shows, with a few in museums, but most are awaiting restoration.
Tandem Roller Model Range
Edit
Vibratory Compactor Model Range
Edit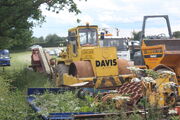 Articulated Dump Truck Model Range
Edit
Off Highway Rigid Dump Truck Model Range
Edit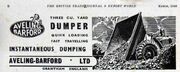 Motorgrader Model Range
Edit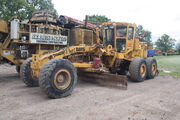 Wheel Loader Model Range
Edit
Aveling-Austin Grader Model Range
Edit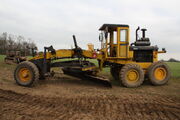 Miscellaneous Machines
Edit
Preserved Other Machines
Edit
References / sources
Edit
External links
Edit