Bauer AG, based in Schrobenhausen (Germany), is an international provider of services, machinery and ancillary products in the earth-working (foundation engineering)and groundwater fields. The holding company is the parent of over 100 subsidiary businesses in the fields of construction, equipment and resources.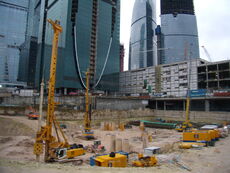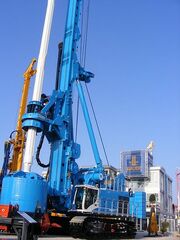 Affiliated companies in classified order (Construction, Equipment, Resources)
Edit
BAUER Spezialtiefbau GmbH
SCHACHTBAU NORDHAUSEN GmbH
SPESA Spezialbau und Sanierung GmbH
WÖHR + BAUER GmbH
BAUER Maschinen GmbH
ABS Trenchless GmbH
EURODRILL GmbH
FAMBO Sweden AB
HAUSHERR System Bohrtechnik GmbH
KLEMM Bohrtechnik GmbH
MAT Mischanlagentechnik GmbH
PRAKLA Bohrtechnik GmbH
RTG Rammtechnik GmbH
TracMec Srl.
BAUER Resources GmbH
BAUER Umwelt GmbH
FWS Filter- und Wassertechnik GmbH
German Water and Energy Gruppe
MBS Mineral Bulk Sampling
HydroGeoConsult
Esau & Hueber GmbH
Foralith AG
SITE Group
References
Edit
External links
Edit
| | |
| --- | --- |
| | This German corporation or company article is a stub. You can help Tractor & Construction Plant Wiki by expanding it. |
Ad blocker interference detected!
Wikia is a free-to-use site that makes money from advertising. We have a modified experience for viewers using ad blockers

Wikia is not accessible if you've made further modifications. Remove the custom ad blocker rule(s) and the page will load as expected.