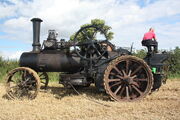 Beeby Bros. were a large agricultural contractor and farmers based at Rempstone in Nottinghamshire, England. The company was famose for its fleet of Steam ploughing sets, a number of which survive today in preservation.
Company history
Edit
Early history ?
After World War II the company sold off or scrapped most of their steam ploughing tackle, as tractors took over on farms. The company operated some crawler tractors on there own farm and on contract work in the 1950 & 1960s.
Former fleet
Edit
Surviving engines
Edit
Rempstone Steam Rally
Edit
Members of the Beeby family were involed with starting the Rempstone Steam Rally which was hosted on their farm fora number of years.
References / sources
Edit
External links
Edit
Ad blocker interference detected!
Wikia is a free-to-use site that makes money from advertising. We have a modified experience for viewers using ad blockers

Wikia is not accessible if you've made further modifications. Remove the custom ad blocker rule(s) and the page will load as expected.