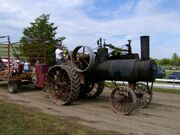 The belt pulley is a type drive found on older tractors and steam engines. It was superceded by the power take off shaft. A large, flat and wide flexible belt was used to connect the tractor's belt pulley to a machine such as a saw mill. The belt pulley is usually found on the side of the tractor on the frame towards the back of the engine.
The belt pulley, like the PTO today, was a common way of testing tractor horsepower. This was done by connecting to a Dynometer, which provides a variable 'Load' on the engine. And, like the PTO, the horsepower put out on the belt was almost always significantly higher than the drawbar horsepower.
Other vehicles are sometimes fitted with an adapter to allow a belt pulley to drive portable machinery such as Saw benchs. One feature of the First Land Rover's was the fitting of a P.T.O which could have a Belt pulley fitted.
Ad blocker interference detected!
Wikia is a free-to-use site that makes money from advertising. We have a modified experience for viewers using ad blockers

Wikia is not accessible if you've made further modifications. Remove the custom ad blocker rule(s) and the page will load as expected.