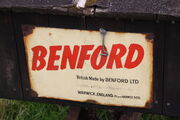 Benford are a construction plant manufacturer based in Warwickshire. They build dumper trucks and mixers. They are now part of Terex corporations global network of construction plant building operation.
The Company was formed in ? by James Bennett and Harry Langford, who sold the business to Walker Bros. Ltd of Walsall after a few years.
Dumper manufacture started in 1953. The original 4x4 models had axles derived from Landrover axles, fitted with double reduction hubs.
The company was taken over by Terex in 1999 as part of their acquisition of Powerscreen who had bought Benford in 1998 from the BM group who acquired Benford in 1986.[1] Terex have their compact equipment factory up the road in Coventry from Benfords Warwickshire base..
Model Range
Edit
Early models
Edit
Cement Mixers 5/3½ first built 1937 and sold at £37
Batch Mixers

Benford 10/7 Hopper loaded Batching mixer unit

4x4 Dumpers
Modern models
Edit
Main article: List of Benford models
Latest ones are now branded as Terex-Benford and are being renumbered in Terex's unified model number scheme.
UK machines in preservation
Edit
(please add any known machine details below)
Other Dumper Manufacturers
Edit
Reference
Edit
External links
Edit
Ad blocker interference detected!
Wikia is a free-to-use site that makes money from advertising. We have a modified experience for viewers using ad blockers

Wikia is not accessible if you've made further modifications. Remove the custom ad blocker rule(s) and the page will load as expected.