| | |
| --- | --- |
| | This article requires Infobox Company adding. |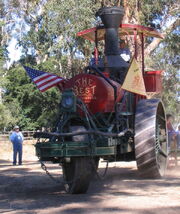 The Best Manufacturing Company (sometimes known as the Daniel Best Company) of San Leandro, California was a manufacturer of farm machinery, now probably most well known for its steam tractors.
The company was formed in 1871 by Daniel Best. The company's initial product was a portable grain cleaner, soon followed by a combine harvester. In 1890 the company purchased the rights to manufacture the Remington steam engine and produced a range of steam-driven farm machinery, including steam tractors and combine harvesters.
The company was acquired by the Holt Manufacturing Company in 1908 after a legal battle. C.L. Best, the son of the founder then formed his own rival company, the C. L. Best Gas Traction Company which built gasoline-powered tractors. This new Best company acquired the rights to manufacture the Lombard Log Hauler, an early tracked crawler, and began producing "tracklayer" tractors.
Following fierce competition from the Fordson company, C.L. Best merged with the Holt Manufacturing Company in 1925 to form the Caterpillar Tractor Company.
Best model range
Edit
(add details of the models built)
Preserved Machines
Edit
If any of these very early machines are known in the UK please add details, the front page has an early Caterpillar machine from just after the merger of Best and Holt.
Were any Bests branded imported into the UK ?
Holt Manufacturing Company
References / sources
Edit
External links
Edit
1900s

 •  •  •  •  •  •  •  •

1910-30s

 •  •  •  •  •  •  •  •

1930s

 •  •  •  •  •  •  •  •

1940s

 •  •  •  •  •  •  •

1950s

 •  •  •  •  •  •  •  •

1960s

 •  •  •  •  •  •  •  •

1970s

 •  •  •  •  •  •  •  •

1980

 •  •  •  •  •  •  •  •

1990s

 •  •  •  •  •  •  •  •  •

Industrial models

 •  •  •  •  •  •

Crawler tractors

 •  •  •

Note this list is under development
please add the model of any page this template is added to
(please fix omission / correct errors of dates)