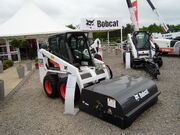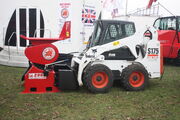 Bobcat Company is a manufacturer of farm and construction equipment with headquarters in West Fargo, North Dakota, USA and manufacturing plants in Gwinner, North Dakota and Bismarck, North Dakota, Dobris, Czech Republic and Wujiang, China.

The company markets skid steer loaders, compact excavators, compact utility vehicles and other small hydraulic equipment under the Bobcat brand name. It is one of the few major manufacturing companies operating in North Dakota, and the only manufacturer building compact excavators in the United States.
In 2007, the Bobcat company was sold by Ingersoll-Rand to Doosan Infracore of South Korea. Bobcat/Doosan then signed an agreement with Daedong Industrial, (the owner/builder of Kioti tractors), to build tractors under the Bobcat brand for sale in North America.[1]
The skid steer loader was introduced by the Melroe Manufacturing Company when they produced the M-400 in 1960. The Bobcat name was first used in 1962 on the 440 model loader; the contemporary dictionary definition of 'bobcat' included the adjectives of "quick, tough, and agile" which were well suited to the small loader.
Melroe was purchased by Clark Equipment Company in 1969, and was purchased from Clark by Ingersoll-Rand in 1995.
It was a subsidiary of the Ingersoll Rand Company from 1995 until July, 2007 when it was sold for $4.9 billion USD to Doosan Infracore of Korea.
Although the word "bobcat" is sometimes used to describe any skid steer loader, such uses are incorrect. Bobcat Company owns worldwide trademark registrations for its "Bobcat" name. Accordingly, the word "Bobcat" only accurately describes equipment and vehicles manufactured by the Bobcat Company. Bobcat Company is currently engaged in a campaign to inform the public of the proper use of the "Bobcat" trademark. Bobcat Company's efforts are targeted at preventing Bobcat from becoming a genericized trademark.
Model Range
Edit
(Help fill in details of models here please)
Current model range
Edit
Skid steers
Excavators
ATV's / Toolcarriers
Telescopic handlers
Early model range
Edit
Preservation
Edit
Please list any known machines in preservation.
References
Edit
External links
Edit