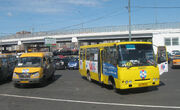 Bogdan (Богдан) is the brand of the Ukrainian light buses made by Bogdan group. The models are powered by Isuzu and marketed outside Ukraine under Isuzu brand. The production is situated in the city of Cherkasy, although there are plans of moving it to LuAZ. These vehicles are generally serving as marshrutka (routed taxicab / minibus) in former Soviet regions.
Currently, Bogdan's main rival is the GAZelle.
References
Edit
External Links
Edit
Ad blocker interference detected!
Wikia is a free-to-use site that makes money from advertising. We have a modified experience for viewers using ad blockers

Wikia is not accessible if you've made further modifications. Remove the custom ad blocker rule(s) and the page will load as expected.