Bristol 20
Model history
Model introduced

Unknown

Model discontinued

Unknown

Model status

Unknown

Discontinued
Engine Specification
Engine make
Austin
Power hp
23
Cooling system
Water
Transmission Details
Transmission type
Unknown
Drive
tracked
Linkage Category
Unknown
Other info
Factories
England
Plow rating

Unknown
The Bristol 20 was a small Crawler tractor built by the Bristol Tractors company of England. The tractor was built from ? to ? and fitted with a ? engine. It featured a 23 hp (17 kW) Austin engine.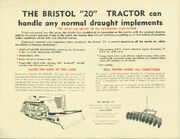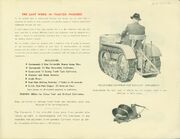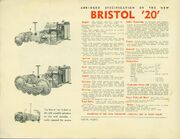 Model history
Edit
For company history, see Bristol tractors.
Specification
Edit
See attached brochure copies.
Preservation
Edit
A Number of examples survive around the world.
add details of known examples here;
add you photos here
References / sources
Edit
External links
Edit
| | |
| --- | --- |
| | Add any external links that directly relate to this articles subject and have more info or have related images. Other general external links can be added to the web Site Links list. |
1900s

 •  •  •  •  •  •  •  •

1910-30s

 •  •  •  •  •  •  •  •

1930s

 •  •  •  •  •  •  •  •

1940s

 •  •  •  •  •  •  •

1950s

 •  •  •  •  •  •  •  •

1960s

 •  •  •  •  •  •  •  •

1970s

 •  •  •  •  •  •  •  •

1980

 •  •  •  •  •  •  •  •

1990s

 •  •  •  •  •  •  •  •  •

Industrial models

 •  •  •  •  •  •

Crawler tractors

 •  •  •

Note this list is under development
please add the model of any page this template is added to
(please fix omission / correct errors of dates)