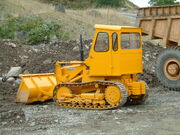 The Bristol Taurus was built by Bristol-Saunders from July 1964 till 1967 when it became the Track Marshall 1100 following Track Marshall taking them over.
Model history
Edit
The Taurus was introduced by the Bristol-Saunders company in July 1964, as a compact British built machine. Details required.
Specification
Edit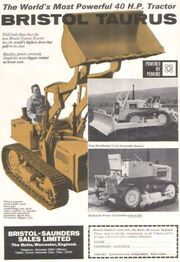 Perkins 3.152 engine of 40 hp[1]
3F 2R gear box with High / Low range box
11.700 lbs drawbar pull
4 in 1 Bucket (option) ?
Option for Backactor
Cab (option)
Agricultural spec
Serial numbers
Edit
MK1 ser. no. from 20001 1964 to 20043 1965
MK2 ser. no. from 21001 1965 to ? 1967 when became the Track Marshall 1100 model.[2]
Preservation
Edit
A number of machines are still in existence with a few having being restored.
References / sources
Edit
Pickering Steam rally for photo
External links
Edit
1900s

 •  •  •  •  •  •  •  •

1910-30s

 •  •  •  •  •  •  •  •

1930s

 •  •  •  •  •  •  •  •

1940s

 •  •  •  •  •  •  •

1950s

 •  •  •  •  •  •  •  •

1960s

 •  •  •  •  •  •  •  •

1970s

 •  •  •  •  •  •  •  •

1980

 •  •  •  •  •  •  •  •

1990s

 •  •  •  •  •  •  •  •  •

Industrial models

 •  •  •  •  •  •

Crawler tractors

 •  •  •

Note this list is under development
please add the model of any page this template is added to
(please fix omission / correct errors of dates)