British Commercial Vehicle Museum Events
Talk

0
Share
Ad blocker interference detected!
Wikia is a free-to-use site that makes money from advertising. We have a modified experience for viewers using ad blockers

Wikia is not accessible if you've made further modifications. Remove the custom ad blocker rule(s) and the page will load as expected.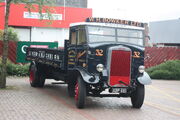 The British Commercial Vehicle Museum is located in Leyland, near Preston in Lancashire, England, and contains many historic vehicles dating back through the ages from early steam wagons to the last Leyland vehicles built. In particular, there are many antiquarian buses on display. The museum was previously a collection of Leyland built vehicles and was associated with the factory.
The museum organises several events with a transport theme during the year in conjunction with the Historic Commercial Vehicle Society and other transport collectors groups.
May 2009 - Spring Transport show.
Edit
some of the vehicles present are listed here
Tractor exhibit list
entry no.
Make & model / no.
Reg no.
Serial no. (if known)
year built
Owner
Photo
Misc info
add more entries
by copying block
below and
pasting in
between entris




-
Model no.
Reg no. ?
Serial no
Year
Owner ?
150px]]
2009 - ERF and Foden Day
Edit
List of exhibits to add below
Tractor exhibit list
entry no.
Make
Model no./ type
Reg no.
year built
Body type
Owner
Photo
Misc info
add more entries
by copying block
below and
pasting in
between entries




-
Make
Model no.
Reg no. ?
Year
body type
Owner ?
150px]]
References / sources
Edit
based on wikipedia stub - exhibit list to add
External links
Edit