Brøyt were a builder of excavators, mainly built in face shovel configuration for use in quarries. The main feature of most model was the use of wheels inplace of tracks and being non powered, so using the bucket to propel themselves about.
Model range
Edit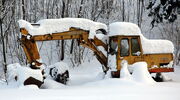 References
Edit
Internet search
Ad blocker interference detected!
Wikia is a free-to-use site that makes money from advertising. We have a modified experience for viewers using ad blockers

Wikia is not accessible if you've made further modifications. Remove the custom ad blocker rule(s) and the page will load as expected.