Bucket is the general term to describe the attachment on the end of a Digger or excavators arm that scoops up the material or digs it out.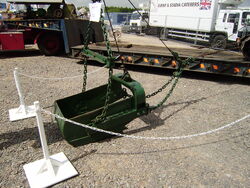 Digger buckets
Edit
General purpose for digging an loading
Loader (shovel) buckets
Edit
Rock Bucket for quarry applications
Bulk handling - for Coal, Grain etc
4in 1 Buckets
Edit
special multi purpose bucket
Specialist buckets
Edit
References / source
Edit
External links
Edit
This article is a stub. You can help Tractor & Construction Plant Wiki by expanding it.
Ad blocker interference detected!
Wikia is a free-to-use site that makes money from advertising. We have a modified experience for viewers using ad blockers

Wikia is not accessible if you've made further modifications. Remove the custom ad blocker rule(s) and the page will load as expected.