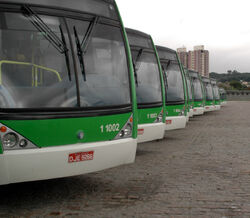 CAIO is a Brazilian manufacturer of buses and light commercial trucks. Founded in 1946 in São Paulo, Brazil, CAIO is a full-line bus manufacturer. In 2001, CAIO was acquired by the Ruas Group and restructured as CAIO Induscar. The factory is located in Botucatu, Brazil.[2]
CAIO Apache S22 - urban bus
CAIO Apache VIP - urban bus
CAIO Atilis - cargo van
CAIO Atilis minibus
CAIO Foz Executive - microbus
CAIO Foz Tourism - microbus
CAIO Foz Urban - microbus
CAIO Giro 3200 - Coach
CAIO Giro 3400 - Coach
CAIO Giro 3600 - Coach
CAIO Millennium - articulated or urban bus
CAIO Millennium Biarticulado - articulated
CAIO Mini Foz - minibus
CAIO Mondego H - urban bus
CAIO Mondego HA - articulated
CAIO Mondego LA - articulated
CAIO Topbus - articulated
CAIO Urban Foz Super - midi bus
References
Edit
External links
Edit

Ad blocker interference detected!
Wikia is a free-to-use site that makes money from advertising. We have a modified experience for viewers using ad blockers

Wikia is not accessible if you've made further modifications. Remove the custom ad blocker rule(s) and the page will load as expected.