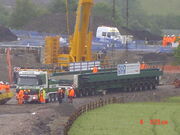 The Firm of Cadzow are a Scottish based Heavy Haulage contractor. The company specializes in "Abnormal load" transportation. They can move Loads up to 400 tons throughout UK, Ireland & Europe.
They have a fleet of Specialist Heavy Haulage tractor Units and trailers including modular lowloader units. these are often used for moving oversized units for the Oil fabrication industry and in the Dock yards.
They also deliver new machinery from the Terex factory at Motherwell all over the country and down to Southampton for export. Dump trucks & Excavators being a regular load.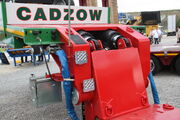 Trucks by
Trailers by
Scale Models of the Fleet
Edit
External links
Edit
Ad blocker interference detected!
Wikia is a free-to-use site that makes money from advertising. We have a modified experience for viewers using ad blockers

Wikia is not accessible if you've made further modifications. Remove the custom ad blocker rule(s) and the page will load as expected.