Caterpillar (engines)
Talk

0
13,374pages on
this wiki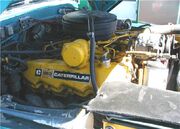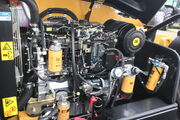 A portion of Caterpillar Inc. business is in the manufacturing of diesel and natural gas engines and gas turbines, which, in addition to their use in the company's own vehicles, are sold to other OEMs for use as the prime movers in locomotives, semi trucks, and ships, as well as providing the power source for peak-load power plants and emergency generators.
Caterpillar also owns Perkins diesels of the UK, a manufacture of diesel engines since the 1930s. They bought Perkins off Massey-Ferguson. Perkins owns the Rolls Royce engines and Cummins brands as well.
Caterpillar engines range from 30 hp (?) to 7,300 hp in size with some being 2 engines connected to together.
They have several factories of 1m sq ft just building engines. Most other manufactures buy them in but CAT from the early days of moving to Diesel power have built there own.
Time Line of Developments
Edit
Model Range
Edit
Early Models
Edit
Post War models
Edit
Modern Engines
Edit
Gas Engines
Edit
The Caterpillar Gas Engine Model range
Model No.
Power hp (kW)
No. of Cylinders
Capacity
Cu. Inch (Litre)
Fuel
Date introduced
Fitted to examples
Notes
Cat G3304
-
4
 ?
Gas
1969
 ?
developed by Holt
Truck Engines
Edit
The ACERT range of modern high performance fuel efficient engines.
Model No.
Power hp (kW)
No. of Cylinders
Capacity
Cu. Inch (Litre)
Fuel
Date introduced
Fitted to examples
Notes
Cat C7 range
-
6
427 (7)
Diesel
 ?
-
Cat C9 range
-
6
549 (9)
Diesel
 ?
-
Cat C13 range
-
6
793 (13)
Diesel
 ?
-
Cat C15 range
-
6
915 (15)
Diesel
 ?
-
Cat C32 range
-
 ?
1953 (32)
Diesel
 ?
-
Modern Giants
Edit
References
Edit