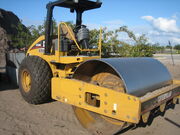 The Caterpillar CS-533E is a vibratory soil compactor manufactured by Caterpillar Inc.
Specifications
Edit
Dimensions
Edit
Overall Length: 217 inches (5510 mm)
Overall Width: 90 inches (2290 mm)[1]
References
Edit
This list is under development. Please add any missing model ranges (note:some sections contain place holder entries do not 'clean up', just replace with valid entries)
Caterpillar Experimental and specials
Ad blocker interference detected!
Wikia is a free-to-use site that makes money from advertising. We have a modified experience for viewers using ad blockers

Wikia is not accessible if you've made further modifications. Remove the custom ad blocker rule(s) and the page will load as expected.