The Caterpillar D740 is a High capacity ADT built by Caterpillar. This model has a 40 ton capacity.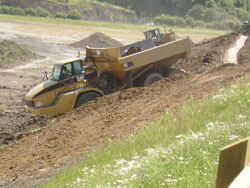 Specification
Edit
Variations
Edit
The Cat D740E is a Ejector version were the load is pushed out by an ejector plate as opposeed to the usual tipping rams, lifting the body up.
Add your photos here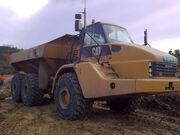 References
Edit
External links
Edit
This list is under development. Please add any missing model ranges (note:some sections contain place holder entries do not 'clean up', just replace with valid entries)
Caterpillar Experimental and specials
Ad blocker interference detected!
Wikia is a free-to-use site that makes money from advertising. We have a modified experience for viewers using ad blockers

Wikia is not accessible if you've made further modifications. Remove the custom ad blocker rule(s) and the page will load as expected.