Ad blocker interference detected!
Wikia is a free-to-use site that makes money from advertising. We have a modified experience for viewers using ad blockers

Wikia is not accessible if you've made further modifications. Remove the custom ad blocker rule(s) and the page will load as expected.
Caterpillar Twenty Two

A restored Twenty Two at the Astwood Bank Vintage Gathering in 2008
Model history
Model introduced
1934
Model discontinued
1939
Model status
Discontinued
Preceded by
Caterpillar Twenty
Engine Specification
Engine make
Caterpillar
Power hp
25
Power kW
19
Cooling system
Water
Transmission Details
Transmission type
Unknown
Drive
tracked
Linkage Category
Unknown
Tractor Dimensions
Length (inches/metres)
108 in.
Width (inches/meters)
57.75 in. (40" gauge)
67.75 in. (50" gauge)
Height (inches/meters)
56.125 in.
Weight (nominal) lb/kg
6,200 lbs. (40" gauge)
6,270 lbs. (50" gauge)
Other info
Factories
USA
Plow rating

Unknown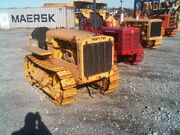 The Caterpillar Twenty-Two was a 25 hp (19 kW) Crawler tractor built from 1934-39 by the Caterpillar Company. It replaced the Caterpillar Twenty model
Model history
Edit
The Caterpillar Twenty-two is a tractor that was introduced by Caterpillar in 1934 to replace the Caterpillar Twenty.[1] It had a fuel capacity of 22 gallons[2] and came in 2 model series, 2F and 1J.[3]
The Caterpillar R-2 was a related model built for the US military.
Specification
Edit
options
40 inch Gauge
50 inch Gauge
Orchard spec with high clearance variant.
Serial numbers
Edit
The Twenty Two was built in 2 Series, with over 15,000 built over a 5 year period.
Series 2F - 9,999 built
Series 1J - 5155 built
Preservation
Edit
A number of examples survive of theses tractors around the world.
Please list any known examples with serial number (if possible) & approximate location i.e nearest town (not owners address).
IJ4363SP Longreach Queensland
List of Preserved Caterpillar Twenty two tractors
Make + Model No.
Serial No.
Reg No.
(if known)
Build-Date
Engine-Type/Make
Owner
(if known)
Photo
Were seen/Featured in
Other info
Cat Twenty Two
2F1405W
?
year
engine
owner ?




seen at ?
Wide version
Fill in with your data
sn if known
?
year
engine
owner




seen at
misc




Please add any tractor with known reg or serial no. with Photo if possible.
Create a page (link) for an individual tractor by linking the reg or serial number using reg number or serial number in the relevant column. Then once saved click the red link to start the new page and add info on that tractor.
Add your photos here;
References / sources
Edit
↑ Orlemann, Eric C. Caterpillar Chronicle: the history of the world's greatest earthmovers. MotorBooks International, 2000, p. 30.
↑ Orlemann, Eric C. and Haddock, Keith Classic Caterpillar Crawlers. MotorBooks International, 2001, p. 55.
External links
Edit
This list is under development. Please add any missing model ranges (note:some sections contain place holder entries do not 'clean up', just replace with valid entries)
Caterpillar Experimental and specials