Ad blocker interference detected!
Wikia is a free-to-use site that makes money from advertising. We have a modified experience for viewers using ad blockers

Wikia is not accessible if you've made further modifications. Remove the custom ad blocker rule(s) and the page will load as expected.
The G506

Chevrolet 1½ ton cargo truck
Place of origin
 United States
Specifications
Crew
2

---

Armor
none
Primary
armament
Provision for machine gun mount.
Engine
GMC 6-cylinder 235 cid
83 hp
Suspension
wheels, 4X4
Speed
48 MPH
The Chevrolet G506 trucks were a series of 1½ ton trucks used by the U.S. Army during and after World War II.
The G506 was a U.S Army Ordnance Corps supply catalog designation for the 1.5-ton, 4X4, truck chassis built in large numbers by the Chevrolet Motor Division of GMC[1]. The basic G506 truck chassis were used for several different models that saw service throughout World War II and the Korean War. All of the G506 series trucks were powered by the Chevrolet 235 cu. in. 83 hp. six cylinder engine mated to a four speed transmission and two speed transfer case. It had a wheelbase of 145 inches.[2]
During World War II, The U.S. sent 151,053 1.5 ton trucks of the G506 type to Russia as part of the Lend Lease program. The Russians thought that the American trucks were better than the Russian trucks, especially off road. Russian supply capability improved dramatically in the Spring and Summer of 1943, mainly as the result of the American trucks that were arriving in large numbers.[3]
Model G4103 Book Symbol YK - Stake and Platform COE, K-33 Truck
Model G4112 Book Symbol YQ - truck cargo, LWB, 4X4,
Model G4163 Book Symbol ZP - truck cargo, W/Winch, 4X4,
Model G4174 Book Symbol ZQ - truck cargo, LWB, 4X4,
Model G7103 Book Symbol NE - Cab
Model G7105 Book Symbol NG - Panel Body, see also K-51, and K-70 van
Model G7106 Book Symbol NH - Dump Body, Less Winch
Model G7107 Book Symbol NJ - Cab
Model G7113 Book Symbol NK - Cab (Tractor)
Model G7116 Book Symbol NL - Dump Body, With Winch
Model G7117 Book Symbol NM - Cargo Body, With Winch
Model G7127 Book Symbol NP - truck cargo, LWB, 4X4,
(*Model G7128 Book Symbol NQ - M6 Bomb service truck G35)
Model G7132 Book Symbol NN - Stake and Platform COE, K-54 Truck
Model G7163 Book Symbol NR - Telephone Body, With Earth Borer, see also K-44 truck
Model G7173 Book Symbol NS - Telephone Maintenance Body, see also K-43 truck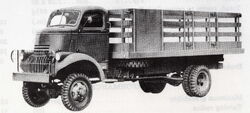 Army Air Force versions
E5 Turret Trainer
J3 field lighting truck
J4 field lighting truck
J5 field lighting truck
fire truck, class 135, fog and foam
References
Edit
General references
Edit
TM 9-2800 Standard Military Motor Vehicles. dated 1 sept. 1943
TM 9-2800 Military vehicles dated Oct. 1947
TM 10-1127
TM 10-1203
External links
Edit