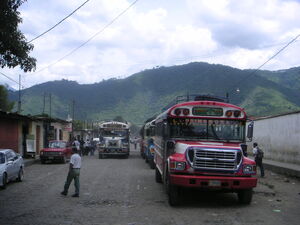 A chicken bus (Spanish: "camioneta") is a colloquial English name for a colorful modified and decorated US school bus and transit bus that transports goods and people between communities in Honduras and Guatemala. The word "chicken" refers to the fact that rural Guatemalans regularly transport live animals on such buses, a practice that visitors from other countries often find remarkable. The buses are also commonly used in Nicaragua, El Salvador, Panama, and Costa Rica.
See also
Edit
External links
Edit

Ad blocker interference detected!
Wikia is a free-to-use site that makes money from advertising. We have a modified experience for viewers using ad blockers

Wikia is not accessible if you've made further modifications. Remove the custom ad blocker rule(s) and the page will load as expected.