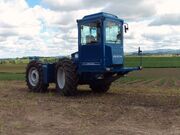 FSX 48S is a County FC 1174 built in 1978 by County and the serial no. 38144. The Tractor is currently owned by Gary Burns.
For company history, see County.
Gary bought FSX 48S 3 year ago and carried out a full restoration to a full ag spec machine. This is the same tractor that Gary drove in the early 80s with a ECON limespreader fitted. A great tractor to drive and pulls like a train.
Specification
Edit
This tractor has appeared at the following events;
References / sources
Edit
External links
Edit
1930s
1950s
1960s
1970s
1980
1990s

 •  •  •  •  •  •  •

Non Ford based models
Crawler tractors
Other products

Note this list is under development
please add the model of any page this template is added to
(please fix omission / correct errors of dates)