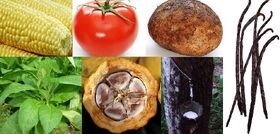 A crop is a non-animal species or variety that is grown to be harvested as food, livestock fodder, fuel or for any other economic purpose. Major world crops include sugarcane, pumpkin, maize (corn), wheat, rice, cassava, soybeans, hay, potatoes and cotton.[1] While the term "crop" most commonly refers to plants, it can also include species from other biological kingdoms. For example, mushrooms like shiitake, which are in the fungi kingdom, can be referred to as crops. In addition, certain species of algae are also cultivated, although it is also harvested from the wild. In contrast, animal species that are raised by humans are called livestock, except those that are kept as pets. Microbial species, such as bacteria or viruses, are referred to as cultures. Microbes are not typically grown for food, but are rather used to alter food. For example, bacteria are used to ferment milk to produce yogurt.
References
Edit
Ad blocker interference detected!
Wikia is a free-to-use site that makes money from advertising. We have a modified experience for viewers using ad blockers

Wikia is not accessible if you've made further modifications. Remove the custom ad blocker rule(s) and the page will load as expected.