Cub Cadet
Talk

0
14,049pages on
this wiki

Cub Cadet is a premium line of outdoor power equipment, established in 1961 as a brand of the International Harvester Corporation in America, and now as a line with MTD Products. The division was sold off in 1981 when International Harvester became bankrupt and was broken up.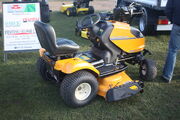 During the 1960s IH initiated an entirely new line of lawn and garden equipment aimed at the owners of increasingly popular rural homes with large yards and private gardens. There were a wide variety of Cub Cadet branded and after-market attachments available; including mowers, blades, snow blowers, front loaders, ploughs, trailers, etc.
Cub Cadet advertising at that time harped on their thorough testing by "boys - acknowledged by many as the world's worst destructive force!". Cub Cadets became known for their dependability and rugged construction.
Cub Cadet sold off
Edit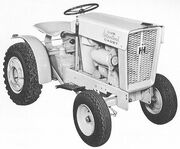 MTD Products, Inc., of Cleveland, Ohio, purchased the Cub Cadet brand from International Harvester in 1981 following the break up of IH after they became bankrupt and were restructured. Cub Cadet was held as a wholly owned subsidiary of MTD for many years following this acquisition, which allowed them to operate independently. Recently, MTD has taken a more aggressive role and integrated Cub Cadet into its other lines of power equipment (MTD, YardMachines, YardMan, White Outdoor, Bolens, and Troy-Bilt).
Cub Cadet Yanmar
Edit
Main article: Cub Cadet Yanmar
In 2007, Cub Cadet (MTD Products) and Yanmar of Japan entered into a partnership to manufacture and market compact and utility tractors in the USA. They would be sold under the Cub Cadet Yanmar brand name through existing Cub Cadet dealers. The partnership was revised in 2011 with Yanmar taking full control, and the Cub Cadet name being dropped.[1][2]
Cub Cadet Trick Shot Challenge
Edit
David Kalb, a warehouse worker from La Habra, California, was the winner of the 2008 Cub Cadet trick shot challenge. Kalb won the chance to play Lebron James, a four-time NBA All-Star and Olympic gold medalist, at a game of H-O-R-S-E in Venice Beach, California in an online contest. Kalb won the first game but the two decided to go best 2 out of 3 whereupon Kalb won also.[3]
Cub Cadet model range
Edit
Post Sell off by IH
UK Machines
Edit
A few of these can be seen in the Garden machinery classes at tractor and vintage shows.
A few have also been converted for junior classes of the "Sport" of Tractor Pulling.
References
Edit
External links
Edit
International Harvester range
International Harvester Germany range
International Harvester France range
International Harvester Cub Cadet range
International Harvester Cub Cadet range
Note this box is under development and contains Null entries as place holders
Please add any models with new articles to this list
Early Makes - pre 1940s

1940s to 1980s

Modern post 1980s

Independents
(North America and Europe)

India & Pakistan

Middle East
(Turkey, Iran,
Iraq, Syria etc...)

Far East
(Australasia, China,
Japan, Korea, Thailand,
Vietnam etc...)

South America
(Argentina, Brazil,
Uruguay etc)

Africa

Asia
(Russia, Tajikstan,
Uzbekistan, Ukraine)

Specialist types of tractor

Crawler Tractors
Orchard and Vineyard tractors
Garden Tractors
(Compact tractors & Cultivators)
Motor Carts
Trucks / tool carriers
ATV's
(Quad bikes etc. for offroad use)

Notable People - associated with the tractor industry

Inventors