Ad blocker interference detected!
Wikia is a free-to-use site that makes money from advertising. We have a modified experience for viewers using ad blockers

Wikia is not accessible if you've made further modifications. Remove the custom ad blocker rule(s) and the page will load as expected.

Daewoo Bus Corporation is a manufacturer of buses. heaquartered in Busan, South Korea, it was established in 2002. These buses are primarily used for public transportation. The Daewoo Bus logo is similar to but slightly different from that of GM Daewoo.
Manufacturers
Edit
Daewoo Bus Corporation (Busan,Ulsan South Korea)
Guilin Daewoo (China)
Master Transportation Bus Manufacturing Ltd. (Taiwan)
Daewoo Bus Costa Rica S.A. (Costa Rica)
GM Daewoo company of Vidamco (Vietnam, Hanoi)
FIDC (Philippines)
Daewoo Bus Japan (Tokyo, Japan)
Daewoo Bus Kazakhstan (Astana, Kazakhstan)
Current vehicle range
Edit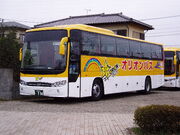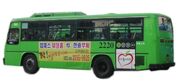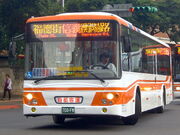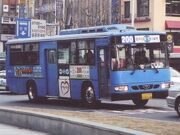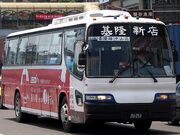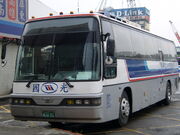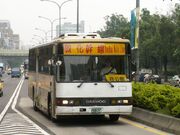 Big transportation bus (New Model)
FX212 Super Cruiser
FX120 Cruising Star
FX116/115 Cruising Arrow
BH120F Royal Cruiser II
BH116 Royal Luxury II
Big transportation bus
BX212H/S Royal Hi-decker
BH120F Royal Cruiser
BH119 Royal Special
BH117H Royal Cruistar
BH116 Royal Luxury
BH115E Royal Ecomomy
BH115H Royal Express
Smally medium-duty bus
BF106 (Front Engine/Diesel)
BH090 Royal Star
Line bus
BS120CN Royal Nonstep (NGV)
BS110CN Royal Nonstep (NGV/Diesel)
BV120MA
BC211M Royal Hi-city (NGV/Diesel)
BS106/106L Royal City (NGV/Diesel)
BS090 Royal Midi
History of Bus Lineup
Edit
see also GM Daewoo for full lineup
Shinjin Motor (1955~1971)
Edit
Shinjin Micro Bus (1962)
Shinjin Light Bus (1965)
Pioneer (1965)
FB100LK (1966)
B-FB-50 (1966)
DB102L (1968)
DHB400C (1970)
DAB (1970)
RC420TP (1971)
GM Korea Motor Company (1972~1976)
Edit
DB105LC (1972)
BD50DL (1973)
BLD24 (1973)
BD098 (1976)
BD101 (1976)
BU100/110 (1976)
Saehan Motor Company (1976~1983)
Edit
BU120 (1976)
BL064 (1977)
BF101 (1977)
BR101 (1980)
BH120 (1981)
BV113
Daewoo Motor Company (1st, 1983~1994)
Edit
BV101 (1983)
BH120S (1983)
BH115Q (1984)
BH120H (1985)
BS105 (1986)
BU113 (1986)
BH115H (1986)
BF120 (1987)
BS106 (1991)
BH120F (1992)
BH113 (1994)
Daewoo Heavy Industry (1994~1999)
Edit
BH117H (1995)
BM090 (1996)
BH116 (1997)
BH115E (1998)
Daewoo Motor Company (2nd, 1999~2002)
Edit
BF106 (2001)
BH090 (2001)
BS090 (2002)
BV120MA (2002)
BS120CN (2002)
Daewoo Bus (Present)
Edit
BH119 (2003)
BX212H/S (2004)
BC211M (2005)
DM 1724 urban bus
DM 1731 suburban bus
FX series (2007)
BC212MA (2007)
References / sources
Edit
External links
Edit