Demolition excavators are generally built or adapted for the arduous duty that they are subjected to on demolition sites. Standard adaptions are FOPS cab guards, HD undercarriage, and extra protection to track motors and pipes. Specialist machines have Long reach arms and Grabs, breakers or shear attachments.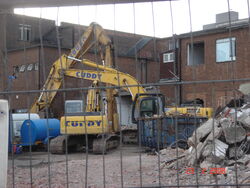 References
Edit
Ad blocker interference detected!
Wikia is a free-to-use site that makes money from advertising. We have a modified experience for viewers using ad blockers

Wikia is not accessible if you've made further modifications. Remove the custom ad blocker rule(s) and the page will load as expected.