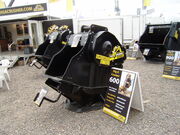 Digacrusher is a brand name for one of the makes of excavator mounted crushers can bee fitted to a 360 excavator in place of the bucket and used to crush concrete and demolition rubble down to a usable size for hardcore.
Operation
Edit
The attachment replaces the bucket and contains a hydraulic operated crusher mechanism mounted in a Heavy duty Bucket body,that is used to scope up semi loose material (not for hard digging) and then crush it and deposit it on a stock pile for re use.
Product range
Edit
A range of machines to fit excavators from a few tons up to 50 ton + size are available
A range of digger mounted rotary screener's are also available to grade out material for use as selected fill.
References / sources
Edit
Photo from the event
External links
Edit
Ad blocker interference detected!
Wikia is a free-to-use site that makes money from advertising. We have a modified experience for viewers using ad blockers

Wikia is not accessible if you've made further modifications. Remove the custom ad blocker rule(s) and the page will load as expected.