Dongfeng Motor Group Co
[1]
(
SEHK
: 
0489
) (
中文:
) and
Dongfeng Automobile Co Ltd
(
SSE
:
600006
) (
中文:
) are publicly listed,
Chinese
vehicle manufacturers that are part of a single entity,
Dongfeng
.
In 2010, the company sold 2.72[2] million units making it the second most-productive Chinese vehicle-maker.[3] It reported 1.72 million sales of passenger vehicles that same year.[4]
Dongfeng is the Chinese partner in joint ventures with companies including Nissan,[1] Honda,[1] Kia Motors,[5] and PSA Peugeot-Citroen.[6]
Also manufacturing spare parts[7] as well as buses, trucks, and cars sold eponymously at home and abroad,[8] Dongfeng is traditionally one of the "top 4" domestic automakers.[9]
Historically also known as "Second Automobile",[10] Dongfeng, or East Wind in Chinese, was founded in 1981[10] or 1969.[11] Perhaps its origins lie in a 1968 dictate of Chairman Mao Zedong as part of his "Third Front" strategy its far inland location in Hubei Province meant to protect it from foreign invasion. Traditionally manufacturing commercial vehicles, by 2001 these made up roughly half of production.[11]
Eventually rising to become the second-largest domestic automobile manufacturer in China,[1] by the mid-eighties its assets had tripled from those initially given to it by the state in 1981, and management was desirous of even greater production capacity.[10] By 1995 the company was experiencing financial difficulties, as was the case with many automobile manufacturers at this time.[7]
Dongfeng was asked by the state in 2009 to help spearhead further consolidation efforts in the sprawling Chinese auto industry[12] as were many other auto-making entities with close ties to the Chinese State.
That same year, it sold 1.9 million vehicles[13] ranking second among domestic automakers[1] and third overall.[9]
Conflicts with the State
Edit
Once considered a discrete entity by the state for planning purposes in the 1980s,[10] this state owned enterprise[14] has come into conflict with authority at both the national and provincial levels.[15] Alongside First Automobile Works it saw the successful dismantling of the Automobile Corporation, a central government entity presumably tasked with preventing non-competitive business practices through dictating output volumes and curtailing purchasing, as well as exasperation at the right of the State to make managerial appointments.[10]
Recent events
Edit
At the 2010 Beijing Auto Show Dongfeng showed an electric vehicle concept car, a physical representation of its vow to bring an electric car to market by 2015. China subsidies oil and Chinese automakers see opportunities in less mature electric vehicles because Western companies have yet to develop much of a lead in the technology.[16]
Own brand passenger vehicles
Edit
Currently selling under only one own brand, newer Nissan technology will underpin Dongfeng sales starting in 2012.
2009 saw the release of their own-branded sedan, the Fengshen S30.[17] Dongfeng-made passenger vehicles were, until the S30, all made by Chinese-foreign joint ventures and carried foreign brand names. These JVs continue to produce the great majority of its passenger products as of 2010.[17]
The own-brand models now include a hatchback as well, the Fengshen H30.[17]
A Dongfeng/Nissan own brand, its cheaper offerings and ties to a famous-name foreign automaker attractive to the less-affluent inland city consumer,[18] Venucia (Qi Chen) is expected to sell new models (based on old Nissan technology) starting in 2012.[19]
The name is derived from that of the Roman god of beauty, Venus.[19]
Joint ventures
Edit
Dongfeng is the Chinese partner in many joint ventures that make trucks and cars.
A subsidiary of Dongfeng subsidiary Dongfeng Automobile Co Ltd,[20] Dongfeng Cummins Engine Co Ltd is a joint venture with American engine-maker Cummins that was established in 1995[21] and manufactures truck engines,[22] etc.
Dongfeng established its joint venture with American parts-maker Dana Corporation, Dongfeng Dana Axle Co, c. 2005.[23] As of 2011, Dana and Dongfeng both have 50% ownership of this joint venture.[24]
Based in Wuhan, Hubei province,[25] Dongfeng Honda Automobile Company was established in 2003[25] and manufactures Honda-branded SUVs and automobiles for the Chinese-market.[26] Products produced by this joint venture with Honda[26] include the Honda Civic hybrid[27] and the CR-V.[28] Dongfeng also owns 10% of Honda's importer in Guangdong Province, Honda Automobile (China) Company, in addition to a joint venture engine manufacturing company, Dongfeng Honda Engine Co.
In 2010, its model line included what was China's most-purchased SUV that year, the CR-V.[29] Other Honda-branded models sold in China are made by Guangqi Honda Automobile (of the Guangzhou Automobile Group), but in 2004 Honda made an agreement that allowed it to sell Dongfeng-built CR-Vs through Guangzhou's showrooms.[30]
A joint venture with the Korean Kia Motors, Dongfeng Yueda Kia Automobile Co is based in Yancheng, Jiangsu province and produces Kia-branded automobiles for the Chinese market.[31]
While Kia car assembly began at a non-Dongfeng affiliated company with the Kia Pride in 1997 at Jiangsu Yueda Auto Works, an equally owned partnership (Yueda Kia Motors) was formed in 1999, and Dongfeng took over half of Jiangsu Yueda's ownership of that in March 2002.[32] Kia has a 50% share while Dongfeng and Jiangsu Yueda Investment Co Ltd (SSE: 600805) each hold 25% ownership.[33]
In 2010 its Sportage was the 8th most-purchased SUV in China.[34]
The company has two production bases in China.[35]
Nissan and Dongfeng have a long-standing relationship. Early on, the Chinese company produced diesel-powered Nissan trucks built from complete knock down kits, and Nissan has lent Dongfeng technical assistance.[36] When the Chinese State began allowing foreign automakers access to its market though joint ventures with Chinese companies, Nissan chose Dongfeng. It remains the only Chinese parter of Nissan,[37] although each foreign automaker is allowed two Chinese partners.[31]
Dongfeng Motor Company
Edit
Main article: Dongfeng Motor Company
Established in 2002[11] and beginning operations with Nissan in July 2003,[38] Dongfeng Motor Co Ltd manufactures Dongfeng-branded heavy trucks, Dongfeng and Nissan-branded light commercial vehicles, and passenger vehicles[39] for the Chinese market. A few of its Dongfeng-branded light commercial vehicles have been exported to Afghanistan, Pakistan, Africa, and the Middle East.[40]
It is equally owned by Dongfeng Motor Group Co and Nissan China Investment Co,[39] and as of 2010 it is the largest joint venture automobile manufacturer in China.[41]
Other Nissan activities
Edit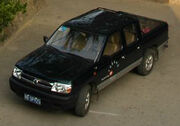 Other joint ventures include the Dongfeng Nissan-Diesel Company, which produces heavy trucks, and Dongfeng Nissan Passenger Vehicle Co (Zhengzhou Nissan Automobile), a unit of Dongfeng Motor Company[42] that makes automobiles for the domestic market and has exported to Egypt.[43] Another unit of Dongfeng Motor Company, Zhengzhou Nissan Automobile Co, manufactures light commercial vehicles.[44] Most Zhengzhou products are sold under the Dongfeng brand, such as the Dongfeng Rich (Rui Qi),[45] a reworked Nissan D22.[46]
Infiniti-branded vehicles are most probably imported.[47]
PSA Peugeot-Citroën
Edit
Main article: Dongfeng Peugeot-Citroën Automobile
Dong Feng Peugeot Citroën Automobile Company is a joint venture with PSA Peugeot-Citroën set up in 1992 and based in Wuhan, capital of Hubei province.[48]
Currently selling a range of Peugeot and Citroën models, its first offering was a hatchback built from semi-complete knock-down kits, the ZX Fukang. Its first Peugeot-branded product was introduced in 2002.[48]
Some of the engines made by this joint venture are used in other Dongfeng passenger car products the Fengshen S30 and H30, for example.[49]
An equally owned joint venture with Taiwanese automaker Yulon Motors, Dongfeng Yulon[50] (or Dongfeng Luxgen[51] or Dongfeng Yulong[52]), was set up in 2009[53] and will manufacture Yulon's Luxgen models in China after the completion of a planned production base in the Hangzhou Xiaoshan Linjiang Industrial Zone in 2011.[50] The cars will be sold in China[54] and production capacity will initially be 240,000 units/year.[55] 120,000 of these units are vehicles and the other half engines.[56]
As of late 2010, 35 out of a planned 60 sales outlets have signed on to sell the Taiwanese cars. This JV is Dongfeng's second try at a cooperation with this Taiwanese company.[50]
Production bases and facilities
Edit
Originating from Hubei province, Dongfeng now has sites in many places throughout China.
Dongfeng sites
Edit
Its first production base for passenger vehicle manufacture is in Wuhan, capital of Hubei province, and the second, in the city of Wenzhou, Zhejiang province.[7] Some commercial vehicles are most likely made in the city of Shiyan, Hubei province, as it is the home to a Dongfeng commercial vehicle division.[57]
Joint venture sites
Edit
Joint venture sites are located all over China.
Dongfeng has multiple production bases in Wuhan, capital of Hubei province.[58] Two[58] are for its joint ventures with Honda, one of which should see completion in 2012,[59] and another two are for its joint venture with PSA Peugeot Citroën.[48] A third Wuhan base for this latter joint venture is planned.[60]
Various sites in Xiangfan, Hebei province, produce Cummins truck engines,[7] Thomson International thermostats,[36] disc brakes in cooperation with the Heubei Asbestos Product Mill and the Italian ALA,[36] powertrains for its joint venture with PSA Peugeot Citroën,[48] light commercial vehicles for a joint venture with Nissan,[37] and cars.[37]
A Nissan joint venture engine production base in Shiyan, Hubei province, produces diesel engines, and other sites here produce auto parts.[37]
Zhengzhou
Edit
A joint venture with Nissan has a production base, Zhengzhou Light Truck plant, in Zhengzhou, capital of Henan province.[37] In 2010, this was joined by a second increasing production capacity by 120,000 units/year.[61] Production capacity figures may consider engines and vehicles as discrete.
Guangzhou
Edit
A passenger-car production base[62] and technical center[63] in Guangzhou, Guangdong province,[62] is part of both the Nissan joint venture Dongfeng Motor Co[11] and a unit of that joint venture,[42] Dongfeng Nissan Passenger Vehicle Co.[64]
Another Guangzhou production base manufactures Nissan engines.[65] Yet another produces engines for the Dongfeng-honda joint venture.[30]
A Huadu District, Guangzhou city, Guangdong province, production base is under construction as of late 2010.[61] It will have a 240,000 units/year production capacity,[61] but these may be engines not vehicles. It could be the large-scale vehicle production base currently being built that will expand Dongfeng-nissan local production capacity to 600,000 units/year.[49]
Jiangsu province
Edit
Its joint venture with Kia has two production bases the newer located in the Yancheng Economic Development Zone of Jiangsu province.[33]
An R&D center in Shanghai,[48] the China Tech Center, is wholly owned by PSA Peugeot Citroën[60] but lends assistance to Dongfeng's joint venture with this French automaker.
Overseas activities
Edit
Dongfeng is involved in a number of ventures in foreign countries, including Indonesia and Myanmar.[66]
The Philippines
Edit
Main article: Dong Feng Motor Philippines
China Dong Feng Motor Distributors, Inc. Philippines is the sole manufacture/distributor of Dong Feng brand in Philippines.
The main business are sales of the Dongfeng series light commercial vehicles, Dongfeng Cummins engines parts, mini-vans, the Special Purpose Vehicle series, pickups, buses, tractor heads and dump trucks etc.
A Dongfeng company, Dongfeng Liuzhou Motor Co Ltd, sells in Vietnam.[66]
A Dongfeng subsidiary, Zhengzhou Nissan Automobile, in early 2011 signed a deal with AM Reguera, a Paraguayan company that assembles automobiles and makes appliances, for the manufacture of pick-up trucks scheduled to start in 2012 after construction of a production base in Capiatá.[67]
United Kingdom and Ireland
Edit
DFSK UK is the trading name of Vestatec Automotive Distribution Ltd., (VAD Ltd.) a British company established specifically to import and distribute DFSK mini vans into the UK and Ireland. In December 2011 DFSK launched a range of four mini vans called DFSK Loadhoppers into the UK light commercial vehicle market.
References
Edit
External Links
Edit