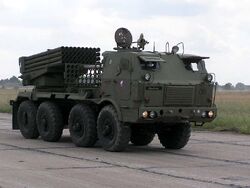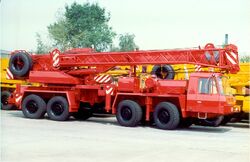 Eight-wheel drive, 8WD, or 8x8 ("eight by eight") is an eight-wheeled vehicle with a drivetrain that allows all eight wheels to receive power from the engine simultaneously.
Some severe/extreme duty semi tractors may have this configuration. Examples of 8x8 military vehicles include the Finnish Patria AMV, Russian MAZ-7310 "Uragan", the American Heavy Expanded Mobility Tactical Truck (HEMTT) and from Czech Tatra T813 or German MAN SX series. It has also been widely used within the Amphibious ATV market by manufacturers such as Argo.
Ad blocker interference detected!
Wikia is a free-to-use site that makes money from advertising. We have a modified experience for viewers using ad blockers

Wikia is not accessible if you've made further modifications. Remove the custom ad blocker rule(s) and the page will load as expected.