Zhejiang Geely Holding Group
[2]
(
中文:
) is a holding company and parent of
Geely Automobile Holdings Ltd
(
中文:
) one of the biggest Chinese
automobile manufacturers
not to be a state-owned enterprise. Geely is also among the top ten Chinese automakers.
[2]
Sales of automobiles and motorcycles in China and several South American nations comprise the majority of its business and Geely has four brand names including its own. One of its models is named the Jingang or King Kong.[3]
In 2010, Geely sold less than its 680,000 units/year manufacturing capacity[4] and bought Volvo Cars from Ford.[5] Total sales in 2010 were 415,286 units an increase of 27.1 percent over the prior year.[6] This exceeded a 400,000 unit sales goal.[6]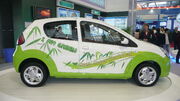 Founding Geely in 1986 as a refrigerator-maker with money borrowed from family,[7] Li Shufu transformed his company into a successful private automaker selling cheap products in tier-3 and 4 inland Chinese cities.
Geely started manufacturing motorcycles in 1994[8] after the purchase of a failing, state-run firm.[9] Small van production began in 1998,[10] and in 2001 Geely received state approval to manufacture automobiles.[10]
Initial public offering
Edit
Geely had its IPO on the Hong Kong Stock Exchange in 2004.[2]
Export aspirations
Edit
Between 2006 and 2008 Geely expressed its desire to sell in the developed EU and United States markets, and in pursuit of this goal it presented at the 2005 Frankfurt Motor Show.[11] It followed with a 2006 showing at the Detroit auto show.[7]
Export to the EU and US has been postponed.
Overseas assembly
Edit
At least four overseas factories assemble Geely models[12] for domestic consumption, probably from semi-complete or complete knock-down kits. These facilities are located in: Indonesia[12] (some of its production has been imported back to China),[13] Malaysia,[12] Russia (with cooperation from local firm Derways),[14] and Ukraine.[12] With the exception of the Russian factory, these locations are not necessarily affiliated with or owned by Geely.
Geely models are sold in Turkey and may be assembled there as well.[12]
Foreign acquisitions and joint ventures
Edit
Geely has made several major foreign acquisitions and participates in a joint venture.
Manganese Bronze joint venture
Edit
Established in 2007, Shanghai LTI Automobile Components Co Ltd makes the TX4, a licensed London Black Cab, in China[15] and is a joint venture with Manganese Bronze Holdings.[15] The company exports semi-complete knock-down kits for assembly in the UK.[15]
Drivetrain Systems International
Edit
In 2009 Geely bought Drivetrain Systems International Pty Ltd,[4] a global transmission developer headquartered in Australia.
Purchase of Volvo Cars
Edit
Geely approached Ford in mid-2008 about a possible takeover of Volvo Cars. On October 28, 2009, Geely was named as the preferred buyer of Volvo by the American automaker.[16] A deal was reached in late March[5] and completed in early August, 2010.[5]
Post purchase
Edit
Volvo continues to operate independent of its new owners, but Geely wants to make Volvo-branded cars in China[17] something Volvo[18] (but not the Chinese State) has agreed to, desires synergy and nowadays communicates with the company via a special, twice-yearly meeting.[19]
Geely (
中文:
) means "auspicious" or "lucky" in Mandarin Chinese.
[7]
Brand names
Edit
Geely brand names include: Emgrand, Englon, Gleagle, and Geely.[1]
Geely's medium to
high-end
luxury brand, Emgrand (
中文:
) was launched in 2009.
[20]
Launched in 2010,
[21]
and replacing the Shanghai Maple brand,
[22]
Englon (
中文:
) emulates classic, British style and its model line includes a
TX4
sold on the Chinese market.
[23]
Some of its cars are built by Geely subsidiary Shanghai LTI.
[24]
Considered a "goofy" word by some native English speakers,
[25]
Gleagle (
中文:
) is Geely's mid-range
[26]
to entry-level
[27]
brand with cheap and cheerful offerings.
Gleagle cars, such as the Gleagle Panda, are available for sale on the Internet in China via the Taobao Mall, a popular e-commerce site.[28] While Geely will deliver the car to your address, buying one of the Panda models on offer does necessitate a trip to a traditional dealer.[29]
The brand is also developing a $2,250 model that may replace the Tata Nano as the world's cheapest car.[30]
Shanghai Maple
Edit
No longer used by Geely[22] this was the brand name of a Geely subsidiary company, Shanghai Maple Automobile, and was established in 1999.[31] It was replaced by Englon.[22]
Dealer network
Edit
Geely refers to its dealer network as 4S stores and sells some models online, too.[29]
In Peru, Uruguay and Venezuela, Geely sells automobiles and motorcycles. Geely has also entered the Bangladeshi, Cuban, Indonesia, New Zealand, Pakistani, Romanian, Turkish and South African car markets. These exports may be in the form of complete knock-down kits.
Cuba has purchased several lots of Geely vehicles,[32] and a considerable number of Geely cars can be seen in Havana, Cuba, notably as police patrol cars[9] or tourist taxis.[32]
Main article: List of Geely models
Geely makes SUVs and passenger cars.
Copying claims
Edit
Like many private Chinese automakers, some Geely models are criticised for too-closely resembling those of famous-name foreign manufacturers.
In Western media, the Geely GE has seen such opprobrium for looking like a Rolls-Royce[33] and the LC, a Toyota Aygo.[34]
Electric vehicles
Edit
Geely is, alongside many of its counterparts, seeking to sell electric vehicles in the future. China subsidies oil,[35] and some Chinese automakers see opportunities in less mature electric vehicles because Western companies have yet to develop much of a lead in the technology.[36]
Electric Black Cabs
Edit
Geely is involved in determining the feasibility of developing electric-powered London Black Cabs. The maker of these taxis, which Geely holds part ownership of[37] and a joint venture with,[15] Manganese Bronze, says it has held talks with UK government officials about this[38] and has signed a research and development agreement with Tanfield Group.[39]
A possible upcoming electric model, the Nanoq could be developed in the future with cooperation from a Danish firm, Lynx.[40]
Motorcycles
Edit
Main article: List of Geely motorcycles
Geely manufactures a number of motor scooters and motorcycles from 50 to 250 cc displacement.
Crash Tests
Edit
A small Geely sedan, the CK, performed badly in an informal crash test done by a Russian magazine[41] sometime prior to 2008.[41]
A 2009 1.3-liter Geely CK 1 model without airbags earned a zero-star rating in a Latin-NCAP crash-test on protecting adult occupants in front seats.[42]
In 2010 the Geely LC scored 45.3 in C-NCAP crash tests, making it China's first locally researched and developed compact car to be awarded a 5-star rating,[43] and it is subsequently the safest Chinese hatchback[44] as of 2011.[45]
Production bases and facilities
Edit
Headquartered in Hangzhou, Zhejiang, Geely has production bases located in: Lanzhou, Gansu (completed in 2006,[46] Geely construction in the region continued as of Aug., 2010,[47] either for expanding the existing facility[46] or on a new semi-complete knock-down factory.[48]); Xiangtan, Hunan; 40 minutes south of Shanghai;[49] Jinan, Shandong province;[46] and Linhai, Luqiao and Ningbo, in Zhejiang.[2]
References
Edit
↑ 1.0 1.1 Our Business Geely official site
↑ 2.0 2.1 2.2 2.3 About Geely Geely official site
↑ Shedding its skin globaltimes.cn, December 31 2010
↑ 4.0 4.1 China Geely on track to meet target reuters.com, Fri Nov 12, 2010 12:20pm EST
↑ 5.0 5.1 5.2 "FORD REACHES AGREEMENT TO SELL VOLVO CARS AND RELATED ASSETS TO GEELY". www.ford.com/about-ford/news-announcements. Retrieved on 2010-03-30.
↑ 6.0 6.1 Geely Sales Volume Inches Up 4% Monday theindonesiatoday.com, 14 February 2011
↑ 7.0 7.1 7.2 SPECIAL REPORT-Saving Volvo:Geely buys brand and management test reuters.com, Thu Jul 22, 2010 10:27pm EDT
↑ Geely Automobiles Al Hashar & Company. Oman.
↑ 9.0 9.1 China's lucky man bags Volvo: Has the founder of Geely, an upstart carmaker, got what it takes to revive Volvo? economist.com, Aug 5th 2010
↑ 10.0 10.1 Milestones Geely official site
↑ China's Geely debuts at Frankfurt car show people.com.cn, September 14, 2005
↑ Geely to invest $30 million in Indonesia globaltimes.cn, June 26 2009
↑ China automaker Geely inaugurates assembly line in Russia globaltimes.cn, January 18 2010
↑ 15.0 15.1 15.2 15.3 "Shanghai LTI Starts Supplying SKD TX4 to the UK", chinaautoweb.com (August 25, 2010).

 

↑ Clark, Andrew (2009-10-28). "Ford set to offload Volvo to Chinese carmaker Zhejiang Geely | Business | guardian.co.uk", Guardian. Retrieved on 2009-12-04.

 

↑ UPDATE 1-Geely may build as many as 3 Volvo plants in China reuters.com, Mon Sep 13, 2010 11:29pm EDT
↑ 3 domestic Volvo plants ok'd globaltimes.cn, December 13 2010
↑ Volvo, Geely set up Dialogue & Cooperation Committee globaltimes.cn, November 08 2010
↑ Geely Emgrand brand-----to build new image of automobile in China Geely official site, Jul.28 2009
↑ Geely to launch Englon brand globaltime.cn, April 14 2010
↑ 22.0 22.1 22.2 Englon brand to get major boost in 2011 chinacartimes.com, November 29, 2010
↑ The first user of Shanghai Englon TX4 came out into view in Shanghai Auto Show Geely official site
↑ "Geely Releases All-New Englon SC5-RV Subcompact", ChinaAutoWeb.com.

 

↑
↑ Beijing 2010: Geely Gleagle GS autoblog.com, Apr 24th 2010
↑ Short Torque chinadaily.com.cn, 2010-12-06
↑
↑ 29.0 29.1 Geely nets online store chinadaily.com.cn, 2010-12-08
↑ Geely to be maker of world's cheapest car shanghaiist.com, May 25, 2010
↑ "Brand Introduction of Shanghai Maple", Geely.com.

 

↑ 32.0 32.1 Geely Prevails in Cuban Streets Geely Official Site, Feb. 6, 2010
↑
↑
↑
↑
↑ Geely drops MBH buy globaltimes.cn, August 16 2010
↑ "Geely: We'll make an electric London cab". China Car Times (2008-10-20). Retrieved on 2009-10-19.
↑ "/ UK - Geely aims to electrify black cabs". Ft.com (2008-10-20). Retrieved on 2009-10-19.
↑ Geely Nanoq electric car set for Europe sale globaltimes.cn, January 11 2010
↑ 41.0 41.1 The home team: Indigenous carmakers are working their way up. Economist.com, Nov 13th 2008
↑ "Geely CK Gets Zero-Star Latin-NCAP Rating", ChinaAutoWeb.com.

 

↑ US Geely's growth: Appliances to autos in 13 years chinadaily.com.cn, 2010-05-04
↑ "Five Star in Collision Test: Geely Panda Appraised as the safest Minicar in China". Geely International (2010-01-09). Retrieved on 2011-01-22.
↑ Auto Special: Safety test proves Geely has the right path to improved performance and competitiveness chinadaily.com.cn, 2011-01-14
↑ 46.0 46.1 46.2 Geely gets in high gear globaltimes.cn, January 20 2010
↑ Geely Group donated 1 million yuan to Zhouqu globaltimes.cn, August 16 2010
↑ Chinese Vice Premier speaks highly of Geely's investment in Lanzhou globaltimes.cn, July 14 2010]
↑ Shanghaied: Things are going awry for foreign carmakers in China economist.com, Apr 23, 2005
External links
Edit
Ad blocker interference detected!
Wikia is a free-to-use site that makes money from advertising. We have a modified experience for viewers using ad blockers

Wikia is not accessible if you've made further modifications. Remove the custom ad blocker rule(s) and the page will load as expected.