FAP (Fabrika automobila Priboj); Serbian Cyrillic: Фабрика аутомобила Прибој or ФАП) is a motor vehicle manufacturer based in Priboj, Serbia. Some of the different kinds of vehicles FAP manufactures are buses, tractors, trailers, and trucks. The company enjoys a long-standing relationship with Mercedes-Benz, which provides engines and licenses for many of FAP's vehicles.
Today, FAP is a major manufacturer of trucks and buses in Serbia.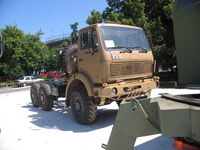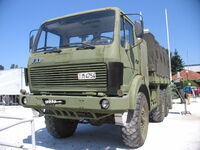 Dump trucks

Edit

Specialized vehicles

Edit
References / sources
Edit

External links
Edit
Ad blocker interference detected!
Wikia is a free-to-use site that makes money from advertising. We have a modified experience for viewers using ad blockers

Wikia is not accessible if you've made further modifications. Remove the custom ad blocker rule(s) and the page will load as expected.