Farm-Mot 250D
Model history
Model introduced

Unknown

Model discontinued

Unknown

Engine Specification
Fuel type
Diesel
Power hp
22
Power kW
16
Cooling system
Water
Transmission Details
Transmission type
Unknown
Drive
2WD
Linkage Category
Unknown
Plow rating

Unknown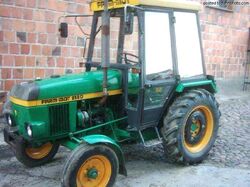 The Farm-Mot 250D tractor was built in Poland by Farm-Mot, a part of Pol-Mot. It was based on a John Deere design. It features a 100 hp (75 kW) engine.
Model history
Edit
For brand history, see Farm-Mot.
References
Edit
External links
Edit
Pol-Mot Models
Polmot Foton/Foton Polmot Models
Farm-Mot Models

250D

Ursus Pol-Mot Models
Early Makes - pre 1940s

1940s to 1980s

Modern post 1980s

Independents
North America

Europe

India & Pakistan

Middle East
(Turkey, Iran,
Iraq, Syria etc...)

Far East
(Australasia, China,
Japan, Korea, Thailand,
Vietnam etc...)

South America
(Argentina, Brazil,
Uruguay etc)

Africa

Asia
(Russia, Tajikstan,
Uzbekistan, Ukraine)

Specialist types of tractor

Notable People - associated with the tractor industry

Inventors
Ad blocker interference detected!
Wikia is a free-to-use site that makes money from advertising. We have a modified experience for viewers using ad blockers

Wikia is not accessible if you've made further modifications. Remove the custom ad blocker rule(s) and the page will load as expected.