FarmTrac 45
Model history
Model introduced

Unknown

Model discontinued

Unknown

Model status

Unknown

Current
Superseded by
Farmtrac 545
Engine Specification
Power hp
42
Power kW
31
Displacement cu in /(litre)
3440 cc
Transmission Details
Transmission type
Unknown
Clutch
Dual
Drive
2WD
General Data
Linkage Category
Unknown
Lift capacity (lb/kg)
1800 KG
P.T.O rpm
540 & 1000
Tyre Sizes (std/options)
Front
7.50.16
Rear
14.9.28
Other info
Factories
India
Plow rating

Unknown

Web site
http://www.escortsagri.com/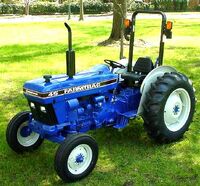 The FarmTrac 45 tractor was manufactured in India by Escort Agri. It was based on an old Ford 4000 model design as Escort used to be a licensed-Ford manufacturer in India. The tractor is powered by a 42 hp (31 kW) engine. It was sold in the USA under the Long banner.
Model history
Edit
For brand history, see Farmtrac. for brand history
References
Edit
External links
Edit
Early Makes - pre 1940s

1940s to 1980s

Modern post 1980s

Independents
North America

Europe

India & Pakistan

Middle East
(Turkey, Iran,
Iraq, Syria etc...)

Far East
(Australasia, China,
Japan, Korea, Thailand,
Vietnam etc...)

South America
(Argentina, Brazil,
Uruguay etc)

Africa

Asia
(Russia, Tajikstan,
Uzbekistan, Ukraine)

Specialist types of tractor

Notable People - associated with the tractor industry

Inventors