Ad blocker interference detected!
Wikia is a free-to-use site that makes money from advertising. We have a modified experience for viewers using ad blockers

Wikia is not accessible if you've made further modifications. Remove the custom ad blocker rule(s) and the page will load as expected.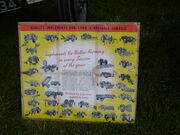 The Ferguson Tractor Company sold a whole range of Ferguson Branded Implements to complement the tractors. Some were built by Ferguson, with others brought in from other manufacturers and badged as Fergusons (as with other firms). Many were designed or modified to Ferguson specifications. Other companies marketed implements and accessories for the Ferguson Tractor, some with Ferguson's approval and other not.
Contents: Top - 0–9 A B C D E F G H I J K L M N O P Q R S T U V W X Y Z
Belt pulley
Edit
Corn mill
Edit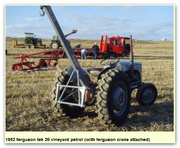 Crane jib
Edit
Crop sprayer
Edit
Cultivators
Edit
Earth Leveler and Blade Terracer
Edit
Earth Scoop
Edit
Fertiliser spreader
Edit
Forklift attachment
Edit
Half track system
Edit
Hedge cutter
Edit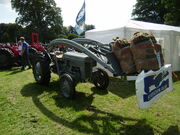 Mole plough
Edit
Muck spreader
Edit
Muck fork
Edit
Post Hole Auger
Edit
Potato planters
Edit
Potato spinner
Edit
Rear loader
Edit
Reduction gear box
Edit
Saw bench
Edit
Seed drill
Edit
Transport box
Edit
Yard scraper
Edit
See also: Ferguson Earth Leveler
Ferguson Owners Clubs
Edit
References/sources
Edit
External links
Edit