Ad blocker interference detected!
Wikia is a free-to-use site that makes money from advertising. We have a modified experience for viewers using ad blockers

Wikia is not accessible if you've made further modifications. Remove the custom ad blocker rule(s) and the page will load as expected.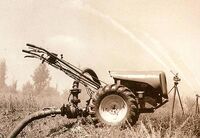 'Ferrari of Abbiategrasso, Italy is one of the brands in the field of agricultural mechanization. Founded in 1954 in Luzzara, in the period of reconstruction and the mechanization of the country, it was one of the most enterprising industry machinery for agriculture.
After an initial phase dedicated to the construction of dies for the production of irrigation pipes, Ferrari introduced in 1957 its first agricultural machine, the tiller that bears the name of the date of birth: MC57, its success lasted until 1965, the year of the launch of the first MT65 articulated tractor.
In 1988, Ferrari was purchased by the BCS Group. Today Ferrari has a differentiated production machines ranging from hobby to professional maintenance to tractors for agriculture niche.
In 2006, an agreement was signed with Goldoni to manufacture some tractors for Ferrari.
Licensees/Built for other companies
Edit
Ferrari's are built under license in Turkey by Taral and Sarv-E-Rezvan (Sabz Koosh Negin) in Iran is the Ferrari's exclusive Distributer.
Ferrari-built tractors are sold by Ledinegg in Austria. They were formerly built for Marshall Tractors in England and Alfa om Spain.
Historical Photo Gallery
Edit
Current Production
Edit
Models built for other companies
Edit
References
Edit
External Links
Edit
Early Makes - pre 1940s

1940s to 1980s

Modern post 1980s

Independents
North America

Europe

India & Pakistan

Middle East
(Turkey, Iran,
Iraq, Syria etc...)

Far East
(Australasia, China,
Japan, Korea, Thailand,
Vietnam etc...)

South America
(Argentina, Brazil,
Uruguay etc)

Africa

Asia
(Russia, Tajikstan,
Uzbekistan, Ukraine)

Specialist types of tractor

Notable People - associated with the tractor industry

Inventors