Fiat-Allis was a company that manufactures construction plant. It was formed in 1974 as a joint venture between the Italian Fiat company and the American Allis-Chalmers company. It is now part of CNH Global, which is a subsidiary of the Fiat Group.
Fiat-Allis was a company created thanks to a joint venture by Fiat and Allis Chalmers. It was founded on 1974 to produce excavators, loaders, backhoe loaders, pipelayer tractors, graders and scrapers. The name was used from 1974 to early 1980's when was replaced with the Fiat Hitachi brand following the signing of a joint venture deal by Fiat and Hitachi of Japan.
In some countries such as America, South Africa, Spain and Portugal the Fiat Allis brand was used on some Fiat Hitachi and O&K built machines.
Model line up
Edit

Crawlers/Bulldozers/Tracked Loaders
Excavators

Fiat-Allis FX210 LC
Fiat-Allis FX250 LC
Loaders (Wheel-Loaders, etc...)
Fiat-Allis 345-B
Fiat-Allis 745-C
Fiat-Allis FA735
Fiat-Allis FR10
Fiat-Allis FR10B
Fiat-Allis FR90PL
Fiat-Allis FR100
Fiat-Allis FR120
Fiat-Allis FR130.2
Fiat-Allis FR180.2
Fiat-Allis FR220.2
Graders

Fiat-Allis 100-C
Fiat-Allis 150-C
Fiat-Allis 200-C
Fiat-Allis FG series

Fiat-Allis FG75
Fiat-Allis FG85
Fiat-Allis FG85A Series B
Fiat-Allis FG95
Fiat-Allis FG105
Fiat-Allis FG105A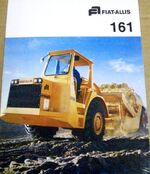 Fiat-Allis 161
Fiat-Allis 260-B
Fiat-Allis 261-B
Fiat-Allis 262-B
Fiat-Allis 263B
External links
Edit
This article is a stub. You can help Tractor & Construction Plant Wiki by expanding it.
Ad blocker interference detected!
Wikia is a free-to-use site that makes money from advertising. We have a modified experience for viewers using ad blockers

Wikia is not accessible if you've made further modifications. Remove the custom ad blocker rule(s) and the page will load as expected.