Fiat Concord
Talk

0
14,942pages on
this wiki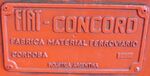 Fiat-Concord Fabrica Material Ferroviario is a subsidiary of Italian automaker Fiat, founded as part of Fiat in 1960.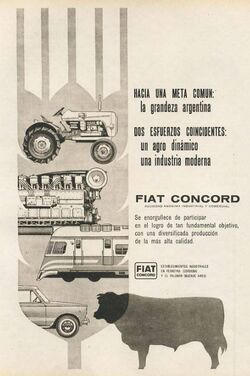 1959: The Argentine government regulates the auto industry to promote the development of local production. Fiat decides, like other manufacturers, including Americans, creating a center for local production to satisfy the law that imposes a local integration rate of 70%. Sept. 30 authorizes the Argentine government build cars in Argentine territory to Fiat.
08/04/1960: The new plant in Argentina Fiat subsidiary Concord, located Caseros, produced its first car, a Fiat 600 Concord, identical in all respects to the original Italian. They then created a second production line with capacity for 4,000 copies of the Fiat 1100 D.
1963: At the end of the year, Fiat 1100 is replaced by the Fiat 1500.
Fiat Concord produced cars, trucks and tractors.
References
Edit
External Links
Edit
Early Makes - pre 1940s

1940s to 1980s

Modern post 1980s

Independents
(North America and Europe)

India & Pakistan

Middle East
(Turkey, Iran,
Iraq, Syria etc...)

Far East
(Australasia, China,
Japan, Korea, Thailand,
Vietnam etc...)

South America
(Argentina, Brazil,
Uruguay etc)

Africa

Asia
(Russia, Tajikstan,
Uzbekistan, Ukraine)

Specialist types of tractor

Crawler Tractors
Orchard and Vineyard tractors
Garden Tractors
(Compact tractors & Cultivators)
Motor Carts
Trucks / tool carriers
ATV's
(Quad bikes etc. for offroad use)

Notable People - associated with the tractor industry

Inventors