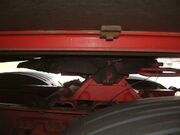 The fifth wheel coupling provides the link between a semi-trailer and the towing truck, tractor unit, leading trailer or dolly. Some recreational vehicles RVs are in a fifth wheel configuration, requiring the coupling to be installed in the bed of a pickup truck as a towing vehicle. The coupling consists of a coupling pin (or king pin) on the front of the semi-trailer and a horseshoe-shaped coupling device called a fifth wheel on the rear of the towing vehicle. Sometimes called a turn-table in Australia and New Zealand, especially if it's a rotating ball-race-bearing type.
The term fifth wheel comes from a similar coupling used on four-wheel horse-drawn carriages and wagons. The device allowed the front axle assembly to pivot in the horizontal plane, to improve turning.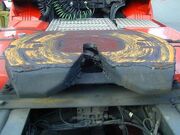 References / sources
Edit
Wikipedia for base definition of term
External links
Edit
Ad blocker interference detected!
Wikia is a free-to-use site that makes money from advertising. We have a modified experience for viewers using ad blockers

Wikia is not accessible if you've made further modifications. Remove the custom ad blocker rule(s) and the page will load as expected.