Ford 3600
Talk

0
15,227pages on
this wiki
Ford 3600

A Ford 3600 in off farm condition as exhibited at Newark Vintage Tractor and Heritage Show in 2008
Model history
Model introduced

Unknown

Model discontinued

Unknown

Model status
Discontinued
No. produced

Unknown

Engine Specification
Fuel type
Diesel
Power hp
40
Governed rpm
{{{governedrpm}}}
Cooling system
Water
Naturally aspirated, Turbo or Supercharged
NA
Transmission Details
Transmission type
Unknown
Drive
2WD
General Data
Linkage Category
Cat I, Cat II or Cat III
Other info
Factories
Basildon, England; Turkey
Plow rating

Unknown
The Ford 3600 was built at Basildon, England from 197? to 197?. It was also later built under license in Turkey by Hema (Hattat).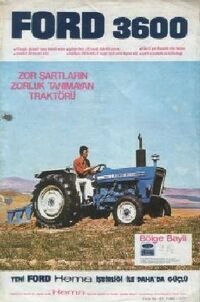 Model history
Edit
For company history, see Ford.
Details required
Specification and options
Edit
Preservation
Edit
List of known Ford 3600 tractors in preservation
Reg No.
(if known)
Serial No.
Build-Date
Engine-Type/Make
Owner
(if known)
Photo
Were seen/Featured in
Other info
VKE 257X
sn unknown
19?
 ?
Bredgar and Wormshill Light Railway




at
Narrow version
Reg no.?
S/n unknown
19?
 ?
Owner ?




at




Reg no
Serial no
Build date
Engine
Owner




Seen at
Notes
Please add any tractor with known reg or serial no. with Photo if possible.
Create a page (link) for an individual tractor by linking the reg or serial number using reg number or serial number in the relevant column. Then once saved click the red link to start the new page and add info on that tractor.
add your photos here
Preservation
References / sources
Edit
External links
Edit
Early Makes - pre 1940s

1940s to 1980s

Modern post 1980s

Independents
North America

Europe

India & Pakistan

Middle East
(Turkey, Iran,
Iraq, Syria etc...)

Far East
(Australasia, China,
Japan, Korea, Thailand,
Vietnam etc...)

South America
(Argentina, Brazil,
Uruguay etc)

Africa

Asia
(Russia, Tajikstan,
Uzbekistan, Ukraine)

Specialist types of tractor

Notable People - associated with the tractor industry

Inventors