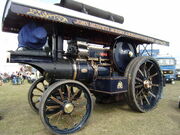 John Fowler & Co. (Leeds) Ltd were engineers of Leathley Road, Hunslet, Leeds, in West Yorkshire, England who were founded in 1863 by Agricultural engineer John Fowler. Fowler & Co produced traction engines and ploughing implements and equipment, as well as railway equipment. Fowler & Co also produced the early Track Marshall tractor which was a tracked version of the Field Marshall tractor. British Railways Engineering Department locomotives ED1 to ED7 were built by Fowler & Co.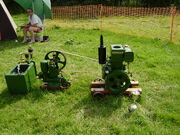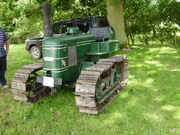 John Fowler was an agricultural engineer and inventor who was born in Wiltshire in 1826. He worked on the mechanisation of agriculture and moved to Leeds in the 1850s. He is credited with the invention of steam-driven ploughing engines. Fowler original sold products built by several other firms but in 1861 formed a partnership Fowler & Hewitson with a William Watson Hewitson in Leeds. Hewitson was also a partner in Kitson & Hewitson, and it was next door to Kitsons works that the steam plough works was built. On Hewitsons death the Firm was renamed Fowler & Co. in 1863.
Fowler's built a vast range of steam tractors, Steam rollers, traction engines and lorries, a number of which have been preserved and appear at shows throughout the summer season. They also built a few Showmans engines the last of which were built in the 1930s. No. 19782 Lion a B6 type in March 1932, No, 19783 King Carnival II in April 1932, with a year latter No. 19989 Onward in April 1933 and finally No. 20223 Supreme in March 1934.[1] The production being mainly rollers and road locomotives in between these.
Fowler ploughing engines (operating in pairs) being an impressive sight hauling a 5 furrow balance plough across a field.
Fowler diesel engines
Edit
The Fowler company started looking at the Diesel engine  market in 1929,as the steam market declined.  Diesel engine development was led by Harry Cooper, who had been in charge of internal combustion engine development at Fowlers since 1902. Cooper was killed in a motor accident on his way home from the 1934 Ipswich Royal show.  The company then appointed combustion engineer  Freeman Sanders later that year. Cooper had designed the Fowler diesel engines that were fitted to the Fowler lorries and crawler tractors. The production of lorries was abandoned after the 1932 Salter report placed an upper limit on the allowable maximum axle loading, the Fowler lorries were too heavy to carry a sensible payload at these limits.    Sanders contribution to Fowler diesel engines was the application of his 'Swirl Chamber' combustion cylinder head. Everything below head level was still pure 'Cooper'. The 6A Diesel engine fiitted to the 75 hp tractor and 80hp Gyrotiller remained as Cooper designed it, Sanders had no input into this design.  By 1936 Sanders had been appointed engineering Director.
Other machinery
Edit
Fowlers diversified away from just building steam engines, with machines such as Concrete batching plant, road scarifiers and Diesel powered road rollers.
Another product was the Fowler Gyrotiller which was a range of large crawlers similar to the Holt / Caterpillar machines fitted with a rotary "plough" (Like a modern day power harrow). This was built in several sizes. The design was built under license from the inventor Norman Stoey an American manager of sugar cane plantations in Puerto-Rico. The rotary "Cutters" worked to a depth of 20 inches (510 mm). Units of 225 hp / 170 hp and 30, 40 and 80 hp. But falling sales lead to the end of production by 1937.
War years
Edit
The firm was engaged in building Tanks and other war related heavy machinery for the Ministry of Supply and was then effectively Nationalised in 1941, when the Ministry took control. Following the end of War, the firm was sold off.
Post war decline
Edit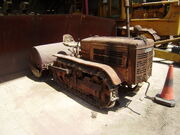 Fowlers & Co. were taken over by the Sheffield firm of Thomas Ward Ltd in 1946, before being sold to British Leyland in 1975. Thomas Ward had bought Marshall, Sons & Co. of Gainsborough in 1936, and the operations were merged to an extent with Fowlers building Crawler tractors based on the Field Marshall tractor from Marshall. Thomas Ward bought Fowlers the firm from the Howard / Rotary Hoes Ltd business who briefly owned the company in 1945 and developed a smaller crawler fitted with a Rotavator unit. This machine was the Fowler FD2 crawler tractor. The company was known as Fowler-Marshall for a period.
From the late 1940s and 1950s Fowler's built a range of crawler tractors, the last model being the Challenger 33 of 125 hp.
Main article: Fowler Challenger range
In 1949 they built a rail locomotive based on the Fowler VFA crawler for use as a works loco. Records show 46 being built with only 3 sold in the UK. Only one is believed to survive and has been restored. The is loco was for sold at the end of September 2008, for over £20,000.
See Track Marshall for later crawlers that evolved from the Leyland era of the firms ownership.
Product Range
Edit
For Caterpillar Challenger Rubber tracked crawlers, see Challenger Equipment.
Preserved Machines
Edit
Fowler Steam Engines
Edit
There are hundreds of Fowler engines in preservation in the UK, listed in the The Traction Engine Register. As Fowlers were also a major exporter of engines to the former British colonies in the 1800 & early 20th century an number survive in places like Australia and New Zealand in preservation and in India, Pakistan, Africa and South America as rusting remains. some of these are being repatriated to the UK & restored by collectors as few original UK engines remain to be restored.
Please add any known machine details to the list from the UK or other countries (please note the country resident in if engine is non UK based).
Preserved machines built by John Fowler & Co.(Leeds) Ltd

Engine No.
Name
Build Date
Type
Weight
Power nhp
Reg No.
Owner
Image
Other info

Fowler-Burrell no. 1050

 ?
-
1869
Plg
 ? ton
 ? nhp
KE 2319
R. Pierce, Middlesex
At Essex Country Show 2009 (Burrell cylinder & motion)

Fowler no. 1190

The Wilder
(formerly William)
1869 (September)
PLG
20 ton
12 nhp
BL 4150
Owner ? (for sale in 2010)
Earliest known existing Fowler. ? (rebuilt by J 7 H Wilder)(TER 2008)[2]

Fowler no. 1368

Margaret
1870
Plg
weight
power
Al 8468
A Melrose, Somerset
to add
At Shrewsbury Steam Rally 2011 (was on Salvage Squad (TV series)

Fowler no. 1641

-
1871(4)
PE
13 ton
12 nhp
 ?
R. & M. Beeby Bros.




Sold at Cheffins September 08
With No.1642 for £250,000[3][4]

Fowler no. 1642

-
1871 (rebuilt 1917)
PLG
13 ton
12 nhp
NR 1213
R. & M. Beeby Bros.
Photo to Add
At Driffield & Lincoln 2008
Sold with No.1641 at Cheffins

Fowler no. 1908

-
1873
Ploughing Engine
 ?
12 nhp
HR 3666
Owner ?




Fowler no. 2013

Noreen
1873
PLG
 ? ton
14 nhp
AL 8463
Owner




Misc info

Fowler no. 2267

1873
Plg
13 ton
12 nhp
AL 8344
Owner
to add




At Rempstone Steam & Country Show 2013
Fowler no. 2479
-
1874
PE
13 ton
12 nhp
NR 1213
J. Fennelly, Co. Carlow ROI
Beeby Bros. No. 4 set (sold 2008 with no. 2693)[5]

Fowler no. 2528

The Chief
1875
Plg (rebuilt from parts)
 ? ton
14 nhp
AL 8345
G. Debes (ex Beeby Bros set 2)
at Holcot 2008 & Elvaston, Old Warden 2009

Fowler no. 2529

1875
Plg
 ? ton
14 nhp
Reg no. ?
Owner ? (ex Beeby Bros)




Collection of parts - being rebuilt around new boiler
Fowler no. 2693
-
1875
PE
13 ton
12 nhp
NR 1212
J. Fennelly, Co. Carlow ROI




Beeby Bros. No. 4 set (sold 2008 with no. 2479)[6]
Fowler no. 2861
-
1876
Ploughing single cylinder
 ? ton
8 hp
AB 9451
P.Stanier & R. Pierce (ex J. Collins)[7]
At Essex Country Show 2009
Fowler no. 3195
-
1887
Ploughing
 ? ton
8 hp
AB 9452
P. Stanier & R. Pierce (ex J.Collins)[8]
At Essex Country Show 2009

Fowler no. 4094

King George V
1882
type
weight
8 nhp
EV 6560
Owner




Misc info

Fowler no. 4223

Aethelflaed
1882
Plg
weight
8 nhp
AC 9061
Owner




Misc info

Fowler no. 4680

1884
Plg
weight
power
AC 9066
Owner




Misc info

Fowler no. 4681

Name ?
1884
Plg
weight
power
AC 9067
Owner




Misc info

Fowler no. 4719

Name ?
188?
TE
weight
power
Reg no. ?
Owner




Misc info

Fowler no. 6188

Beulah
1890
TE
9 ton
8 nhp
MA 8528
Bressingham Steam Museum




Fowler no. 6376

1890
TE
weight
8 nhp
J 6235
Owner ?




Misc info

Fowler no. 6624

Name ?
1892
TE
weight
8 nhp
Ma 5821
Owner ?




Misc info

Fowler no. 6771

Invincible
1892
TE
weight
8 nhp
-
Owner




Misc info

Fowler no. 7129

Alice
1894
RR
weight
4 nhp
BH 8579
Owner




Misc info

Fowler no. 7232

-
1894
TE Type B3
 ? ton
8 nhp
WR 6662
Kelham Island Industrial Museum
Local agricultural engine originally used for threshing

Fowler no. 7459

Endurance
1895
TE
 ? ton
6 nhp
BW 4506
Bob Langley, East Sussex
At Tinkers Park Rally 2010

Fowler no. 7942

Jonah
1899
TE
under 7 ton
5 hp
TA 626
P. & R. Green
at Harewood & Lincoln Steam Rally 2008

Fowler no. 8635

Blackjack
1899
TE
8 ton
8 nhp
IB 5747
J. Paulson, Shrewsbury
To add
At Shrewsbury Steam Rally

Fowler no. 8669

Cape Town
date built
RL type A4
weight
power
Reg no. ?
Goddard family collection




Under restoration Details on Traction Talk

Fowler no. 8712

Pride of Wales
1900
TE Type A4
- ton
6 nhp
DE 2439
J. Smith
At Lincoln 2008 & Sheffield 2009

Fowler no. 8920

The Great North
1901
RL + Crane engine
14 ton
8 nhp
SG 4713
L & D Searle collection, Horsham, West Sussex
At Old Warden 2009

Fowler no. 9187

Lady Carrick
1902
TE Type R
12 ton
8 nhp
BS 8432
D. Bostock, Congleton
150px]]
At Hollowell Steam Rally 2010 Repatriated from Tasmania in 2002

Fowler no. 9225

Pride of the Wye
1901
TE
weight
7 nhp
CF 3795
T. Henderson, Herefordshire
To Add
At Shrewsbury Steam Rally 2011

Fowler no. 9230

-
1902
TE type A4
10 ton
6 nhp
NP 3049
Simon Bish collection, East Sussex
To add
At Tinkers Park Rally 2010

Fowler no. 9279

Kitchener
1902
TE
Under 11 ton
6 hp
SY 1125
M & J Frampton, ?
at Belvoir Castle show + Cromford Steam Fair 2008 & Old Warden 2009

Fowler no. 9475

Duke of Rutland
1902
SM type B5
 ? ton
8 nhp
BS 8015
R. Williamson
at Belvoir Castle show & Lincoln Steam Rally 2008, Old Warden 2009
Repatriated from Australia in 1978

Fowler no. 9924

James Penfold
1904
TE type A4
Under 10 ton
 ? hp
BP 5767
-
Harewood

Fowler no. 10150

-
1904 ?
RR Type ?
15 ton
5 nhp
BS 8347
Peter Stevens ?
Seen Nr. A1 in Notts 2009
Repatriated from Switzerland.[9]
Fowler no. 10318
Sunny Boy No. 2
1905
RL Type B6
 ? ton
8 nhp
WR 6790
F. Baldwin
Showmans On loan to Leyland Museum, Lancashire from Hollycombe Steam collection

Fowler no. 10373

Ada
1905
TE
- ton
7 nhp
CE 7922
D. Gowlett, ?
To add
At Old Warden 2009

Fowler no. 11082

Jaroslava
1907
PLG type K5
-
8 nhp
SV 7345
R. Goodwill, ?
At Driffield 2008
Repatriated from East Germany.

Fowler no.11108

Dreadnought
1909
SM
 ? ton
 ? nhp
-
R. Knox, ?




[10]

Fowler no. 11114

Puffin Billy
1908
TE type A5
11 ton
6 nhp
DS 8075
W. Ellis, ?
repatriated from Ireland
At Lincoln 2008 Duncombe Park 2009
Fowler no. 11352
Sandy
1907
TE Type A4
 ?
6 nhp
BF 4855
A. Steele, Aberdeen in Scotland
At Great Dorset Steam Fair in 2008 on the Dynometer & Barnard Castle 2009
Repatriated from Australia

Fowler no. 11357

-
1908
TE type A4
 ? ton
6 nhp
NM 219
H. Holman, ?
At Lincoln Steam Rally 2008 & Old Warden 2009, Family owned since the 1960s
Fowler no. 11421
The Countess
1908
TE Type A4
 ? ton
6 nhp
NT 117
R. Timson, Norfolk
At Lincoln Steam Rally 2008 & Woolpit Steam Old Warden 2009

Fowler no. 11484

Bromyard Queen Nance
1909
TE type A8 Estate engine
 ? ton
8 hp
CJ 5367
Colin Piggott, ? (For sale spring 2011)
At Bromyard Show + Holcot 2008 & Old Warden 2009

Fowler no. 11594

-
1908
TE
 ? ton
7 hp
EW 564
S. Wing
at Holcot Steam Rally 2008

Fowler no. 11695

Jean
1908
TE
 ? ton
7 nhp
SA 4155
Owner ?, Aberdeen




Misc info

Fowler no. 11698

Edna
1909
TE
10 ton
7 nhp
NK 925
P & S Lyons,
To add
At Old Warden 2009 & Woodcote Rally 2010

Fowler no. 11699

Pride of Hanley Castle
1908
TE
10 ton
7 nhp
AB 9028
Owner ?, Chipping Norton
To add
Seen at Much Marcle Steam Rally
Fowler no. 11700
-
1908
Agricultural Traction Engine
under 10 ton
6 nhp
SV 5785
A. Biglands, Derbyshire
at Cromford + Harewood
(ex Australian engine repatriated)

Fowler no. 12226

Titan
1911
RL
- ton
8 nhp
HL 930
A & L Marchington,
To add
At Old Warden 2009

Fowler no. 12530

Bellingham
1912
RR Type N (Believed to be only Example left)
7 ton
3 nhp
J 7255
D.G. MacDonald
at Driffield & Lincoln 2008
(Ex Durham CC)

Fowler no. 12754

Nightmare
1912
RL type A8
18 ton
7 nhp
SV 8988
Ruth Atkinson, Billericay Essex
At Tinkers Park Rally 2010

Fowler no. 12761

Elsa
1911
TE
11 ton
7 nhp
BH 8166
S Tomlinson, Leics
to add




Rempstone Steam Rally 2013

Fowler no. 12899

Western Star
1912
TE
weight
power
BX 1937
Owner ?, Cumbria
photo from Flickr

Fowler no. 12906

Foremost
1911
Road Loco Type B6
17 ton
10 nhp
-
J.Walker formerly with R.Wilcox
Repatriated from France in 2008
At Elvaston 2009

Fowler no. 13140

Volunteer
1913
TE type A8
10 ton
7 nhp
Y 9955
Dave Freemantle of Wickham
At Netley Marsh Steam Show 2011
Fowler no. 13141
Jo
1913
Road Loco type A7
 ? ton
7 nhp
HO 5677
Michael Davis of Avon Dassett
At Astwood Bank 2008/9 & Bloxham Steam Rally 2009

Fowler no. 13881

-
1913 (17) ?
Plg type AA6
20 ton
16 nhp
NO 372
E. Flear
At Lincoln & Driffield 2008

Fowler no. 14012

Lord of the Isles
1915
TE type A7
 ? ton
6 nhp
CE 7818
M. Maskell, of Bedford
At Rushden 2008 & Stoke Goldington 2009

Fowler no. 14100

Empress
1914
TE Locomotive
under 13 ton
 ? hp
DW 2235
 ?
in livery of Kelham Island Steam Co at Harewood 2008

Fowler no. 14115

The Lion
1914
road locomotive
 ? ton
8 nhp
XC 9653
owner ?




Fowler no. 14247

Sunrise
1915
PLG Type K7
 ? ton
12 hp
NM 1249
Saunders Collection
Pair with 14248 in

Fowler no. 14248

Sunset
1915
PLG type K7
 ? ton
12 hp
NM 1250
Saunders Collection
At Old Warden 2009,
Pair with 14247

Fowler no. 14256

General French
1907
PLG
 ? ton
10 nhp
KE 3135
-
Photo to add
at GDSF 2008 Ploughing demo
Fowler no. 14257
Linkey
1916
PLG type K7
 ? ton
12 nhp
KE 2494
A & M. Jones, Worcestershire
at Cromford, Wymswold & Holcot 2008 Astwood Bank + Bloxham, Old Warden 2009
Fowler no. 14258
Sevington
1916
PLG type K7
 ? tons
12 nhp
KE 2495
J. Mann, ?
At Strumpshaw, Weeting Rally + Old Warden 2009
Fowler no. 14321
Yorkshire Belle
1916
Showmans conversion (ex RR)
 ? weight
 ? nhp
BT 4580
Turner Brothers, York
At Driffield & Lincoln 2008 & Barnard Castle 2009

Fowler no. 14332

Name ?
1914
TE ex D2 roller
10 ton
 ? nhp
Reg no. ?
Owner ?




Recently restored (OG July 2013)

Fowler no. 14333

Bonnie
1914
RR
12 ton
5 hp
AD 8773
owner ?
At Bromyard Gala 2008

Fowler no. 14375

-
1917
Ploughing Engine type BB
20 ton
16 nhp
BE 7548
Flear Family of Kirton Lindsey
At Elvaston Steam Rally 2009

Fowler no. 14378

Whittersham Boy
1918
PLG Type BB
 ? ton
16 nhp
FX 6738
B.J. Garman, of ?
150px]]
At Bloxham Steam Rally 2010

Fowler no. 14383

Prince
1917
PLG
weight ?
power ?
NM 1284
Hollycombe Steam collection




Fowler no. 14384

Princess
1917
PLG
 ? ton
16 nhp
NM 1283
A. Turner, ?
Little Casterton 2009

Fowler no. 14402

Jemima
1917
Showman's Engine
6 ton
4 nhp
BW 2374
Robert Crawford collection




Listed in photos of steam plough club visit & NTET list
Fowler no. 14406
MTOTO
1917
TE type T3
under 5 ton
4 hp
U 4171
G. Collins, ?
at Belvoir Castle show, Driffield & Lincoln 2008 & many others in 2009
Fowler no. 14425
Carry On
1916
Showman's Engine (conversion)
19 ton
10 nhp
DP 4418
Saunders collection
At St.Albans Old Warden & Weeting Rally 2009 - Old conversion by Openshaw (1920)
Fowler no. 14660
(Non UK engine)
GEORGE WILLIAM
1920
Z7 type PE
27 ton
22 nhp
-
Cobdogla Irrigation & Steam Museum, South Australia




(OG 228)
Fowler no. 14661
(Non UK Engine)
Black Bess
1920
Z7 type PE
27 ton
22 nhp
-
Swan Hill Pioneer Settlement Museum, Victoria, Australia




(OG 228)

Fowler no. 14674

Busy Bee
1922
RR type DH
10 ton
6 nhp
BW 9937
Hawthorne family, Woodcote Oxfordshire
To add
At Woodcote Rally 2010

Fowler no. 14712

Wilbur
1917
Plg Type BB
16 ton
14 nhp
NO 4630
R. Burgess, East Sussex
At Tinkers Park Rally 2010

Fowler no. 14728

Giant Tiger
1918
Plg class AA
weight ?
18 nhp
DO 1918
Barleylands Farm Museum
Pair with no. 14729
In the Barleylands collection in Essex

Fowler no. 14729

Giant Panther
1918
PE
weight ?
18 nhp
DO 1919
Barleylands Farm Museum




Pair with no. 14728

Fowler no. 14758

The Iron Duke
1920
SRL
12 ton
7 nhp
WY 480
 ?
Photo to add
 ?

Fowler no. 14765

-
1920
TE
 ? ton
5 nhp
DO 1933
Robert Crawford collection




Fowler no. 14805

Lord Doverdale
1917
TE - 'T3 Tiger'
5 ton
4 hp
UG 1496
D. Cope, Derbyshire
at Cromford 2008 & Elvaston 2009
Fowler no. 14862
Evening Star
1917
SM type R3
17 ton
8 hp
DW 2235
G. Atkinson's Scarborough Fair Collection
at GDSF 2008

Fowler no. 14888

Kingfisher
1917
TE type R3
12 ton
8 hp
HO 6420
Alan Eaton collection, of Northants
at Rushden and Kettering 2008

Fowler no. 14893

Midnight
1917
Road Loco type R3
14 ton
8 nhp
CT 6888
I. Barraclough, Rotherham
Dual Fuel kit (oil) - At Sheffield Steam and Vintage Rally 2009

Fowler no. 14933

Challenger
1917
TE
12 ton
8 nhp
CT 6891
Robert Crawford collection




Fowler no. 14934

Monarch of the Road
1917
Showmans Conversion
 ? ton
7 nhp
EB 6276
Owner ?
On display in the Auto und Technik Museum, Sinsheim, Germany
Fowler no. 14948
Prince of Wales
1917
TE rebuilt as SM
18 ton
8 hp
EB 4999
D. Woodward, ?
at Southport Vintage Rally in 2009 & Holcot Steam Rally 2008

Fowler no. 14950

-
1918
TE ? (Has drum like a plg)
12 ton
8 nhp
VF 2984
D. Williams, Hay on Wye
A Monmouth Vintage Show 2011

Fowler no. 14958

Marina
1918
TE
12 ton
8 nhp
E 9600
Owner ?




Misc info (were seen, photo taken, special features etc)

Fowler no. 15116

Bertha
1920
Showmans
weight ?
power ?
CB 3062
Levens Hall Museum nr Kendal in Cumbria
At Cumbria Steam Gathering 2009

Fowler no. 15117

Headway
1920
Showman's road locomotive
13 ton
8 nhp
1920 MN
Owner ?




Misc info (were seen, photo taken, special features etc)

Fowler no. 15133

Name ?
1917
Ploughing K7
 ? ton
10 nhp
CF 4073
Owner ?




Diesel conversion

Fowler no. 15134

Name?
1917
Ploughing K7
 ? ton
10 nhp
CF 4074
Owner ?




Diesel Conversion

Fowler no. 15138

Mistress
1918
Plg type BB1
20 ton
16 nhp
HR 339? (Originally)
Owner ?, ?




Repatriated from Canada.[11] Pair with 15139

Fowler no. 15139

Master
1918
Plg type BB1
20 ton
16 nhp
HR 3399
Owner ?, ?




Pair with 15138
Fowler no. 15141
-
1920
Living van
-
-
With roller 19045
D. Finnegan, Southampton
To add
At Bill Target Memorial Rally 2011, with roller + water cart

Fowler no. 15142

1918
PLG type BB1
20 ton
16 hp
BP 6125
S.E. Davis & Son collection
At Astwood Bank
Pair with Fowler no. 15143

Fowler no. 15143

1918
PLG type BB1
20 ton
16 hp
BP 6125
S.E. Davis & Son collection
At Astwood Bank
pair with Fowler no. 15142

Fowler no. 15145

Name ?
1918
Plg type BB1
20 ton
16 nhp
CF 3348
Owner ?




Misc info (were seen, photo taken, special features etc)

Fowler no. 15146

Fame
date built
Plg BB1
17 ton
16 nhp
AL 8508
Owner ?




Misc info (were seen, photo taken, special features etc)

Fowler no. 15147

Fortune
date built
Plg BB1
17 ton
16 nhp
AL 8507
Owner ?




Misc info (were seen, photo taken, special features etc)

Fowler no. 15148

-
1918
Plg type BB1
20 ton
16 nhp
CT 4663
Owner ?
At Riverside Southport 2011

Fowler no. 15149

-
1918
Plg type BB1
20 ton
16 nhp
CT 4664
Owner ?




Pair with Fowler no. 15148

Fowler no. 15154

Ward
1920
Plg BB1
17 ton
16 nhp
FX 6823
Owner ?, Driffield




Misc info (were seen, photo taken, special features etc)

Fowler no. 15155

Dale
1920
Plg type BB1
17 ton
16 nhp
[[FX 6824]
Owner ?, Driffield




Misc info (were seen, photo taken, special features etc)

Fowler no. 15162

Name ?
1918
Plg
17 ton
16 nhp
WR 7150
Owner ?




Misc info (were seen, photo taken, special features etc)

Fowler no. 15163

Headland Beauty
19 ?
PLG
 ? ton
 ? hp
WR 7151
Owner ?
photo to add
at GDSF 2008 Ploughing demo

Fowler no. 15164

Berkshire Lady
1918
Plg type BB1
17 ton
16 nhp
WR 7185
Owner ?




Misc info (were seen, photo taken, special features etc)

Fowler no. 15165

Name ?
1918
Plg type BB1
17 ton
16 nhp
WR 7180
Owner ?




Misc info (were seen, photo taken, special features etc)

Fowler no. 15170

Princess Caroline
1918
Plg type BB1
17 ton
16 nhp
NR 78
Owner ?




Misc info (were seen, photo taken, special features etc)

Fowler no. 15171

Name ?
1918
Plg type BB1
17 ton
16 nhp
NR 79
Owner ?




Misc info (were seen, photo taken, special features etc)

Fowler no. 15175

-
date built
type
weight
power
Reg no. ?
Owner ?




See Fowler no. 15142

Fowler no. 15182

Achilles
1918
PLG type BB1
17 ton
16 hp
HO 5869
M. Davis, Avon Dassett
at Holcot 2008 & Bloxham 2009

Fowler no. 15183

Ajax
1918
PLG type BB1
17 ton
16 nhp
HO 5868
P. Wilson




Listed at Bloxham but No. 15182 was there

Fowler no. 15194

William Shakespear
1918
PLG
weight ?
power ?
FX 6820
Science Museum




A Pair with Fowler no. 15195

Fowler no. 15195

Anne Hathaway
1918
PLG
weight ?
power ?
FX 6821
Science Museum




A pair with Fowler no. 15194

Fowler no. 15198

Name ?
1918
Plg type BB1
17 ton
16 nhp
Al 8509
Owner ?




Mercedes Diesel Conversion

Fowler no. 15199

Name ?
date built
Plg type BB1
17 ton
16 nhp
AL 8510
Owner ?




Mercedes Diesel Conversion

Fowler no. 15206

 ?
19 ?
PLG
 ? ton
 ? hp
-
Photo to add
at GDSF 2008 Ploughing demo

Fowler no. 15231

Prince
1918
PLG
 ? ton
 ? hp
AC 9511
owner ?
at Bromyard Show 2008

Fowler no. 15231

Prince
1918
PE type BB1
 ? ton
16 n hp
AC 9511
at Bromyard show 2008

Fowler no. 15236

Cissie
1917
PE type AA7 (rebuild needed)
21 ton
18 hp
CF 3411
S. Cruickshank (ex Bressingham Collection)




Sold by Cheffins Oct 2008
Fowler no. 15237
Bessie"
1917
PE type AA7 (rebuild needed)
21 ton
18 hp
CF 3412
S. Cruickshank (ex Bressingham collection)




Sold At Cheffins Oct 2008
Fowler no. 15288
Mr Blower
1919
Steam Tractor
under 5 ton
4 nhp
U 4952
A.R. Tyler,
at Belvoir Castle show 2008 & many events in 2009
Fowler no. 15288
Mr Blower
1919
Tractor
5 ton
4 nhp
U 4952
A. R. Tyler collection
At Belvoir Castle show + Lincoln Steam Rally 2008

Fowler no. 15293

Onward
1919
'Tiger' Tractor T3
8 ton
4 nhp
BN 2788 ex (U 5008)
W. Olley, Oxfordshire (ex R. Greenaway)
At Woodcote Rally 2009 (new (replacement) canopy 2008)

Fowler no. 15323

Excelsior
1918
A9 type Road Loco (ex war dept.)
15 ton
8 nhp
HR 3697
D. Eansworth, Derbyshire
at Cromford Steam Rally 2008

Fowler no. 15333

Johnny
1919
Plg
weight
16 nhp
AL 9855
D. Williams, Hay-on-Wye
To add
At Shrewsbury Steam Rally

Fowler no. 15337

-
1919
PE Type BB
20 ton
16 nhp
DO 1928
Owner ?




At Klondyke Mill

Fowler no. 15340

-
1919
Plg type BB
20 ton
16 nhp
BL 8167
Strumpshaw Hall Steam Museum
A pair with Fowler no. 15341

Fowler no. 15341

-
1919
Plg type BB
20 ton
16 nhp
BL 8168
Strumpshaw Hall Steam Museum
A pair with Fowler no. 15340

Fowler no. 15348

-
1919
Plg type BB1 (Diesel conversion)
 ? ton
16 nhp (was)
NM 637
Robert Crawford collection




McLaren Conversion
Pair with 15349

Fowler no. 15349

Samson
1919
PE type BB1(Diesel conversion)
 ? ton
16 nhp(was)
NM 638
Robert Crawford collection




McLaren Diesel Conversion
pair with 15348

Fowler no. 15364

Windsor
1919
Plg type AA7
22 ton
18 nhp
NO 1236
The Claude Jessett Collection (since 2010)
At Southport Vintage Rally 2009
Pair with 15365

Fowler no. 15365

Sandringham
1919
Plg type AA7
22 ton
18 nhp
NO 1235
The Claude Jessett Collection
At Tinkers Park Rally 2010 Pair with 15364

Fowler no. 15375

Supremacy
1919
SRL (Openshaw conversion)
weight
power
UUP 526
F Hollinshead, Nantwich
To add
At Shrewsbury Steam Rally 2011

Fowler no. 15428

-
1920
PE type BB1
20 ton
16 nhp
DO 1994
Leeds Industrial Museum
A pair with Fowler no. 15429
In the Leeds Museums collection

Fowler no. 15429

-
1920
PE type BB1
20 ton
16 nhp
DO 1995
Leeds Industrial Museum
A Pair with Fowler no. 15428
In the Leeds Museums collection

Fowler no. 15436

Princess Mary
1920
Plg type BB1
20 ton
16 nhp
NO 1364
B. Snelgar, ?




At Bill Targett Memorial Rally 2011

Fowler no. 15441

Tiger
1920
Plg type BB1
20 ton
16 nhp
CT 4177
D. Shelmerdine, Nottingham
Pair with Lion Fowler no. 15442

Fowler no. 15442

Lion
1920
Plg type BB1
20 ton
16 nhp
Reg no. ?
D. Shelmerdine, Nottingham
to add




Pair with Fowler no. 15441

Fowler no. 15451

Victory
1926
Ploughing Engine
20 ton
14 nhp
SD 9378
B. Knight collection, Stamford
Little Casterton 2009

Fowler no. 15452

Dreadnought
1925
Plg type BB1
20 ton
14 nhp
SD 9377
Owner ?




Misc info (were seen, photo taken, special features etc)

Fowler no. 1234

Name ?
date built
type
weight
power
Reg no. ?
Owner ?




Misc info (were seen, photo taken, special features etc)

Fowler no. 15453

Saucy Sue
1925
PE type BB1
20 ton
14 nhp
TW 1803
C.H. Cole & Sons, Essex

At the top of the Field

At Weeting Rally 2009
Pair with 15454

Fowler no. 15454

Bonzer Tom
1925
PE type BB1
20 ton
14 nhp
TW 1802
C.H. Cole & Sons, Essex
At Weeting Rally 2009
Pair with 15453

Fowler no. 15462

Ajax
1919 Nov
Road Loco type A9
15 ton
7 nhp
AD 9126
Middlewood Bros. collection, Nr York
at Sheffield Steam and Vintage Rally 2009

Fowler no. 15467

Sir Douglas
1920
Road Loco type A9
 ? ton
7 nhp
AD 9200
S Philips & sons Ltd
at Strumpshaw Steam Rally 2009

Fowler no. 15516

Ruth
1921
Plg type K7
14 ton
10 nhp
CT 4051
Coppard CE
At Tinkers Park Rally 2010

Fowler no. 15517

Hilary
1921
Plg type K7
14 ton
10 nhp
CT 4052
Coppard CE
At Tinkers Park Rally 2010

Fowler no. 15625

Crimson Rambler
1921
Te type T3
Under 5 ton
4 hp
U 7148
Owner ?
at Harewood in 2008,br>'Ex Westmorland Country Council'

Fowler no. 15629

-
1920
ST 'Tiger Tractor'
 ? ton
4 nhp
U 7290
Saunders Collection
To add
At Weeting Steam rally, Pickering Steam Rally & Old Warden 2009
Fowler no. 15652
Repulse
1920
Showmans Road Loco R3 type
18 ton
8 hp
CU 977
T. Gibson, Notts
at Belvoir Castle show 2008 + Kettering
Fowler no. 15653
Renown
1920
SM class R3
17 ton
8 hp
CU 978
Howard Brothers
at Belvoir 2008 & many other events
Fowler no. 15657
The Iron Maiden (ex Kitchener)
1920
SM (was TE)
7 hp
18 Ton
FX 6661
Graham Atkinson, Scarborough, Yorkshire
Now in Atkinson Collection at Scarborough. photo at GDSF

Fowler no. 15662

-
1929
TE
weight ?
8 nhp
AZ 2450
Belfast Museum




In the Belfast Museums collection

Fowler no. 15669

Name ?
1922
Plg type Z7
 ? ton
22 nhp
-
Owner ?




Listed at Great Henham Steam Rally 2011

Fowler no. 15670

-
1922
PLG type Z7
 ? ton
22 hp
-
M. Davis, Avon Dassett
at Holcot Steam Rally 2008

Fowler no. 15673

-
1920
PLG type Z7
25 ton
22 hp
F49 UXF
M.Davis, Avon Dassett
(ex Mozambique) seen at Holcot 2008 & Bloxham 2009
Fowler no. 15688(16588) ?
Muttley
1921
RR type DN
10 ton
 ? nhp
AD 9802
M. Preston, ?




ex Norfolk DC & Gloucester CC's

Fowler no. 15710

Tommy
1922
Traction engine Type A9
12 ton
7 nhp
MO 780
Ray mathews, Shropshire
At Onslow Park Steam Rally 2009

Fowler no. 15748

Earl Douglas
1920
TE
 ? ton
 ? hp
EC 3388
J. Wright, West Yorkshire
at Harewood 2008

Fowler no. 15752

Majestic
The Pudsey Roller
1921
RR type DR
10 ton
5 nhp
WR 7508
C/O Road Roller Association




On 25 year loan to RRA to restore (donations to RRA Pudsey Fund)

Fowler no. 15787

Cynorthwywr
1921
Road Loco D5 type
10 1/2 ton
5 nhp
EP 2398
R & P Jeffs, ?
At Elvaston & Klondyke 2009

Fowler no. 15813

Elsie
1922
Steam roller type DN1
10 ton
6 nhp
WR 8965
The Shipton Family, Gloucestershire
To add
At Kemble 2009

Fowler no. 15854

The Dreamer
1923
RR type DN1 (ex tar sprayer)
8/10 ton
5 nhp
WE 1568
Bruce Frogbrook, Hailsham, East Sussex
At Tinkers Park Rally 2010

Fowler no. 15902

Jessica
1923
Road Roller type D5
15 ton
 ? hp
KR 8728
D. Wardell, ?
at Astwood Bank 2008

Fowler no. 15942

Ralph
1922
RR
10 ton
 ? nhp
WY 8058
M.H. Middlewood & Sons, nr York
At Driffield 2008

Fowler no. 15964

-
1923
RR type T3B
8 ton
 ? nhp
WY 7192
J & N Howard, ?
At Strawberries and Steam 2011 - Ex Guisley UDC

Fowler no. 15965

Irish Lady
1923
RR
 ? ton
 ? bhp
IA 6195
Ex Tarmac Plc - Owner ?
At Northumberland Vintage Rally 2012 (was offered for sale at cheffins Bristol sale in 2010 not sold)

Fowler no. 15970

D.C. Ver
1923
SM Tractor ex RR + TE type T3
8 ton
 ? nhp
NW 6092
R. Tyler (Converted to Showmans in 1991)
at Lincoln 2008
ex Mechanical Tar Spraying & Grouting Co.

Fowler no. 15973

Jenny
1924
RR
6 ton
 ? nhp
BW 7794
H. Holman, ?
at Stoke Goldington Steam Rally 2009
Ex council roller
Fowler no. 15981
EVE
1923
RR - Type DN1 ex Sri Lanka
10 ton
 ? hp
SV 5862
L. Donn, S. Yorkshire
Engine was at Cromford + Harewood House & Lincolns in 2008, Sheffield 2009

Fowler no. 15991

Cheetal
1923
0-4-0 Rail locomotive
 ?
 ?
NA
Leeds Industrial Museum collection
At Armley Mills 2011 - Built for India

Fowler no. 16053

John
1925
PE Class AA
weight 21 ton
power 16nhp
EB 5518
Museum of Lincolnshire Life
Currently displayed - Pair with Fowler no. 16054
Photo on traction talk

Fowler no. 16054

Michael
1925
PE Class AA
weight 21 ton
power 16nhp
EB 5519
Museum of Lincolnshire Life




Currently stored - Pair with Fowler no. 16053

Fowler no. 16078

Navigator
ex Catherine
1923
RR
10 ton
power ?
SV 9427
L. Fisk, Manchester
To add
At Shrewsbury Steam Rally 2011

Fowler no. 16134

192 ?
RR
 ? ton
 ? hp
U 9493
owner ?
Photo to add
at GDSF 2008 40y Display

Fowler no. 16144

Rosie
1924
RR type DN1
10 ton
 ? hp
ES 6534
owner ?
Photo to add
at GDSF 2008 Roadbuilding

Fowler no. 16148

Olie
1924
RR type DN1
8 ton
 ? hp
TT 1253
owner ?
at GDSF 2008 on Road building duty

Fowler no. 16157

Braw Lass
1924
RR
6 ton
 ? nhp
DD 5490
Owner ?




Under rebuild

Fowler no. 16175

Paddy
1924
RR type DN1
8 ton
4 nhp
MW 8189
P.E. Johnson, ?
at Rushden Calvalcade and Holcot Steam Rally 2008 & Old Warden 2009

Fowler no. 16235

The Highlander
1924
RR type DN1 ex Tar Sprayer
10 ton
7 nhp
AV 45
The Higgins family, ?
At Lincoln Steam Rally 2008, & Strumpshaw, Old Warden 2009
ex Abberdeen CC

Fowler no. 16236

Lady Mary
1924
Showman's conversion
ex RR type DN1
8 ton
6 nhp
EC 5521
owner ?
at Darley Dale Festival of Transport 2009

Fowler no. 16289

Supremacy
1925
TE type DN1
8 ton
6 hp
NL 8292
D.A. & H.M. Webster, ?
at Harewood & Lincoln 2008

Fowler no. 16365

King of the Road
1928
TE (Convertible)
6 ton
4 nhp
YC 3689
R. Tyler, ?
Photo to Add
At Lincoln 2008

Fowler no. 16392

Alice
1925
RR
8 ton
4 nhp
MB 8144
P. Atkins ?
to add 150px]]
at Boxham 2013

Fowler no. 16436

Nut Roast
1925
RR Type DN1
10 ton
power ?
SA 8439
R. Fairhurst ?




Misc info
Fowler no. 16439
Showman
ex Delilah
1925
SM ex Roller type DN1
10 ton
 ? nhp
SM 5121
L. Vernon, Hetton-Le-Hole, Tyne & Wear
At Lincoln 2008

Fowler no. 16519

ALBION
1925
RR type DN1
8 ton
 ? nhp
BW 9211
Angus Abott, Surrey
At Tinkers Park Rally 2010

Fowler no. 16614

-
1926
RR Type B6
12 ton (8 ton ?)
6 nhp
PP 5902
P. Dickens, Northampton
owned since 1969
Seen at Stoke Goldington Steam Rally 2009

Fowler no. 16646

Jack of Hearts
1926
Plg K7
17 ton
12 nhp
RO 4520
D. Mariner, ?




At Bill Target Memorial Rally 2011

Fowler no. 17071

Titch
ex Old Jim
1928
RR type T3
10 ton
 ? nhp
BF 4887
G.& A. Morrison, Winterley, Sandbach
to add
At Hollowell Steam Rally 2010 ex L.Edwards (OG 228)(ex Africa)

Fowler no. 17077

The Forest Maiden
1929
Showman ex RR type DNB Tar Sprayer
10 ton
 ? nhp
UW 1331
M. Brain, Forest of Dean
At Stourport Steam Rally 2009

Fowler no. 17106

Duke of York
1928
Road Locomotive
B6 Crane Engine
 ? ton
10 NHP (8 nhp in TER)
KD 2826
P. Scholey, ?
At GDSF 2009

Fowler no. 17107

Parsons Pleasure
1928
Road Locomotive
B6 Super Lion
 ? ton
10 nhp
-
Robert Crawford collection
To add
At Carrington Rally 2009, Fitted with HD (Stump puller) winch

Fowler no. 17212

Wolverhampton Wanderer
1929
Road Loco B6 (Crane)
23 Ton
10 hp
RF 6092
Len Crane collection
at GDSF 2008 40y display & BSEPSOld Warden 2009

Fowler no. 17251

-
1928
SR ex Tar sprayer
8 ton
 ? nhp
DS 7206
Summerlee Industrial Museum, Coatbridge, Scotland




Occasionally steams at museum events

Fowler no. 17287

Oriana
1927
TE ex RR
weight
power
UW 1329
Wm. Lowe, Surrey (C/o T Seedon)
To add
At Shrewsbury Steam Rally

Fowler no. 17470

Bonnie Lass
1928
TR (conversion)
6 ton
4 nhp
PX 9047
A. Rundle, Lincolnshire
To add
At Weeting Rally & Old Warden 2009 - Ex Roller (in 1980s)

Fowler no. 17480

Survivor
1929
RR type DNB
10 ton
 ? nhp
BS 9196
A.E. Baker, Brierley Hill Fitted with Rubber 'Tyres' to rollers
AtKettering 2008 & Stourport 2009
Reimported from Portugal

Fowler no. 17501

Pentland Queen
1927
RR type DNB
10 ton
5 nhp
SY 3413
R. Inman, of Nottinghamshire
At Driffield Steam Rally & Lincoln Steam Rally 2008
ex Midlothian CC

Fowler no. 17560

-
1929
RR type DNA
10 ton
5 nhp
TM 4782
Saunders collection
At Weeting Rally(not listed), Old Warden 2009

Fowler no. 17578

Evening Queen
1926
SRL originally type DNA Roller
11.5 ton
5 nhp
UA 5597
M. Hadfield, Nottinghamshire
At Driffield Steam Rally & Lincoln Steam Rally 2008
ex. Fussell Bros.

Fowler no. 17585

The Wanderer
1928
SM type DNA
12 ton
5 hp ?
UA 8178
A. Turner Yorks
at Holcot Steam Rally & Lincoln Steam Rally 2008
Fowler no. 17621
-
1926
Motor Ploughing engine
weight ?
power
-
Leeds Industrial Museum
Diesel ploughing engine (one half of one set of only 40 sets built)

Fowler no. 17756

-
1929
PLG
weight ?
power ?
VO 8987
Nottingham Industrial Museum
Pair with Fowler no. 17757

Fowler no. 17757

-
1929
PE
weight ?
power ?
VO 8988
Nottingham Industrial Museum




Pair with Fowler no. 17756
Fowler no. 17786
-
1928
Motor Roller
 ? ton
-
Reg no. ?
Owner ?




Gardner Engine - Misc info (were seen, photo taken, special features etc)[12]
Fowler no. 17954
-
1931
Motor roller
 ? ton
-
Reg no. ?
Owner ?




Waukesha engine - Misc info (were seen, photo taken, special features etc)[13]
Fowler no. 17956
-
1931
Motor roller
10 tons
-

VN 2811

+
Leeds Industrial Museum
Unrestored, Fitted with MAN engine.[14]

Fowler no. 18075

Britannia
1930
DNB type RR
12 ton
5 nhp
CV 1662
Dingles Steam Museum
On display at Dingles Fairground Heritage Museum 2011

Fowler no. 18503

Royal Sovereign
1931
SM ex RR type DNB
12 ton
5 hp
GO 5298
ex Turner Brothers(sold 2009)
at Holcot 2008 & Stourport 2009

Fowler no. 18507

Morning Star
1931
RR
14 ton
5 nhp
SM 8832
P. Jeffs, Streetly, ?
At Elvaston Steam Rally 2009

Fowler no. 18659

Arfur
1930
RR type DNB
12 ton
4 nhp
3969 WG
R. Todd (owner)
D. Spearman, Essex (driver)
At Strumpshaw 2009 & Lincoln2008
repatriated from Portugal

Fowler no. 18663

Lilly
1930
RR Type DNB
10 ton
5 nhp
TF 1851
Owner




Misc info
Fowler no. 18672
Name ?
1932
Motor roller
 ? ton
-

272 XUF

+
S.P. Saunders, Hampshire
Retro-fitted Perkins P4 engine

Fowler no. 18867

IDA
1912 ?
RR Type T3B
9 ton
4 nhp
AFW 301
D.G. MacDonald, Lincs
At Driffield & Lincoln 2008
ex Louth BC

Fowler no. 19045

Adagio
1931
RR type DNA
10 ton
5 nhp
TK 6141
D. Finnegan, Southampton




At Bill Targett Memorial Rally 2011 (with Fowler no. 15141 Living van & water cart)

Fowler no. 19049

Bacchus
1931
RR
8 ton
 ? nhp
TK 6488
S. Palmer, Berks ex R & T Waistell, Binfield
At Woolcote Rally 2009, ex T. Marchington collection
Fowler no. 19338
Monty
1931
TE type D5 compound
 ? ton
5 nhp
RX 8106
P Allan, ?
At Lincoln 2008

Fowler no. 19356

Name
1932
RR
10 ton
5 nhp
JU 1294
R. Williamson, Rutland
to add




at Rempstone Steam Rally 2013

Fowler no. 19357

-
1933
Road Roller
weight ?
power ?
CZ 2260
Ulster Folk Museum




in the collection at the Ulster Folk Museum in Co.Down NI.

Fowler no. 19456

Highland Lass
1941
TE type DNB (ex roller)
12 ton
 ? hp
SE 3563
owner ?
at Belvoir Castle 2008
Fowler no. 19590
-
1934
Road Roller
weight ?
power ?
JI 5869
Ulster Folk Museum




In the collection at the Ulster Folk Museum, Co. Down NI
Fowler no. 19838
-
date built
Motor roller
10 ton
-
Reg no. ?
Owner ?




Misc info (were seen, photo taken, special features etc)[15]

Fowler no. 20122

Respite
1933
Showmans Conversion Ex Roller
10 ton
6 nhp
TJ 2626
Owner ?
Kettering Vintage Rally 2013

Fowler no. 20223

Supreme
1934
SRL
22 ton
10 nhp
EU 5313
Owner ?
Under restoration (seen at Strawberries and Steam 2011)
Fowler no. 20477
-
1935
motor roller
8 ton
power
Reg no. ?
Owner ?, Essex




Misc info (were seen, photo taken, special features etc)[16]
Fowler no. 20478
-
1932
Motor roller
 ? ton
-
Reg no. ?
Owner ?, Cheshire




Misc info (were seen, photo taken, special features etc)[17]

Fowler no. 20992

Kinsale
1936
Ag TE
weight
power
Reg no. ?
R. Prideaux, ?
To add
At Shrewsbury Steam Rally 2011

Fowler no. 21222

Wee McGregor
1937
TE
7 ton
4 nhp
CS 5409
D & V Hubbuck, Hexham, Northumberland
at Cumbria 2009 & Driffield 2008

Fowler no. 21629

Name ?
1937
RR type T£A2
8 ton
3 nhp
FF 4913
Owner ?
At Strawberries and Steam 2011, part restored

Fowler no. 21632

-
1937
TE type T3B
8 ton
4 nhp
BWY 847
J. Selby, ?
At Lincoln Steam Rally 2008
last Steam roller bought by West Ridding CC

Fowler no. 21636

Covenantor
1938
RR type T3B
8 ton
4 nhp
CS 7859
R. Freeman, Banbury Oxfordshire
To add
Listed for (not seen) Cumbria 2009, seen at Woodcote Rally 2010. Ex Turner Bros.

Fowler no. 21647

Kinsale
1937
TE
12 ton
6 nhp
ZB 1135
Owner ?
At Southport Vintage Rally in 2009

Fowler no. 21833

Hermes
1936
RR type DNC
13 ton
4 nhp
CRL 110
Johnathan Bartum, East Sussex
At Tinkers Park Rally 2010
2nd Youngest surviving Fowler in UK, fitted Allen scarifier
Fowler no. 22060
Capper Pass
1937
0-4-0 Diesel loco
weight ?
40 hp
NA
Leeds Industrial Museum
at Armley Mills Leeds Industrial Museum 2011

Fowler no. 22596

Evening Star
1937 (December)
RR type DNB (ex tar sprayer)
12 ton
6 nhp
EJ 5535
Paul Wood, Cornwall




Currently under restoration, due for completion in 2011, hopefully in time for GDSF. Last Fowler built known to exist (TER 2008)[18]

Fowler no. 1234

Name ?
date built
type
weight
power
Reg no. ?
Owner ?




Misc info (were seen, photo taken, special features etc)
copy the 11 lines below (forms 1 row) and paste in table to add entries, replacing place holder text with your data - In source edit mode

Fowler no. 1234

Name ?
date built
type
weight
power
Reg no. ?
Owner ?




Misc info (were seen, photo taken, special features etc)
Machine types Key:
Notes
PLG = Ploughing Engine, PE = Portable Engine, RL = Road Loco, RR = Road Roller,
SM = Showmans, ST = Steam Tractor, SW = Steam Wagon, TE = Traction Engine
Each engine has its own page linked by the Make & no. to add more details and photos about them click the link
(if link is

red

just click and create a new page for your info)
Fowler Crawler Tractors
Edit
A few examples have been preserved (pleased add details of any other examples known to be in preservation)
Gallery of Fowler Crawler Tractor Images
Edit
Add your machine photos to the gallery below:-
Railway Locomotives
Edit
Some locations of preserved Fowler railway locomotives include:
References / sources
Edit
Wikipedia
Show Catalogues for engine lists & details
References
Edit
External links
Edit
Early Makes - pre 1940s

1940s to 1980s

Modern post 1980s

Independents
North America

Europe

India & Pakistan

Middle East
(Turkey, Iran,
Iraq, Syria etc...)

Far East
(Australasia, China,
Japan, Korea, Thailand,
Vietnam etc...)

South America
(Argentina, Brazil,
Uruguay etc)

Africa

Asia
(Russia, Tajikstan,
Uzbekistan, Ukraine)

Specialist types of tractor

Notable People - associated with the tractor industry

Inventors