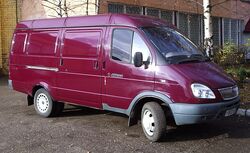 GAZelle is a series of mid-sized trucks, vans and buses made by Russian/Soviet car manufacturer GAZ. GAZelles are similar to the later launched GAZ Sobol and GAZ Valdai line of vans and light trucks. GAZelle, Sobol, and Valdai account for the majority of the Russian van and light truck market, and rank as GAZ's most popular and successful products.
GAZ-3302 pick-up truck
GAZ-33021 Farmer pick-up truck, extended cabin
GAZ-3221 passenger van, 8 seats
GAZ-32213 passenger van, 13 seats
GAZ-322132 passenger van, 13 seats (for shuttle services (marshrutka) - Marshrutka)
GAZ-2705 cargo van
GAZ-27051 Combi cargo van, extended cabin
References
Edit
External Links
Edit
Ad blocker interference detected!
Wikia is a free-to-use site that makes money from advertising. We have a modified experience for viewers using ad blockers

Wikia is not accessible if you've made further modifications. Remove the custom ad blocker rule(s) and the page will load as expected.