Ad blocker interference detected!
Wikia is a free-to-use site that makes money from advertising. We have a modified experience for viewers using ad blockers

Wikia is not accessible if you've made further modifications. Remove the custom ad blocker rule(s) and the page will load as expected.
Garden Tractors are also called "Compact tractors" or "Horticultural Tractors" and are generally designed to be small, and lightweight to operate in the confined space of a garden or small holding plot.
Manufacturers
Edit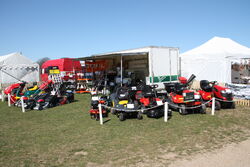 Mainstream Manufacturers
Edit

Lots of small firms built compact tractors after the 2nd World war partially to use up capacity following the end of war related work and to meet demand but when recession hit a lot folded as demand dried up and as 2nd hand ex WD lend-lease machines became available the market shrunk.
References
Edit
Early Makes - pre 1940s

1940s to 1980s

Modern post 1980s

Independents
North America

Europe

India & Pakistan

Middle East
(Turkey, Iran,
Iraq, Syria etc...)

Far East
(Australasia, China,
Japan, Korea, Thailand,
Vietnam etc...)

South America
(Argentina, Brazil,
Uruguay etc)

Africa

Asia
(Russia, Tajikstan,
Uzbekistan, Ukraine)

Specialist types of tractor

Notable People - associated with the tractor industry

Inventors