Guy Motors was a British company based in Fallings Park, Wolverhampton that made cars, lorries, buses, and trolleybuses. They were established in 1914 by Sydney Guy who had been the Works Manager of nearby Sunbeam. The first product was a 30cwt lorry which employed a much lighter form of pressed steel frame, unlike the more commonly used heavy rolled steel channel frames of the time.[1]
During World War I they made the ABC designed Wasp and Dragonfly models of aircraft Radial type engine, Tylor truck engines and Maudslay Motor Company gearboxes as well as being the country's largest maker of "Depth charge" fuses.[2]
After the war they decided to make luxury cars with a design by RH Rose, also from Sunbeam. This had Britain's first production V-8 of 4072 cc and featured horizontal side valves. About 25 were made. It was joined by a smaller model in 1922 with the 2465 cc four cylinder 16.9 hp. Both cars were expensive and this limited sales, especially from a relatively unknown company. A cheaper model followed in 1924 with the 1954 cc 13/36 with an engine from Coventry Climax. About 110 of the 4 cylinder models are thought to have been made. In an attempt to enter the car market further they bought the Star Motor Company in 1928 but it failed to make a profit and was closed in 1932.
They were bought out by Jaguar in 1961 and badged Guy buses ceased production in 1964. By then the company had developed a completely new range of trucks: the Guy Big J models. The Big J was designed around a new Cummins V6 engine, and was intended for motorway operation.[3] In 1966 Jaguar became part of the British Motor Holdings.
In 1968, Guy Motors became part of British Leyland Motor Corporation after the merger of British Motor Holdings and Leyland Motor Corporation.
Guy Motors' factory was closed in 1982.
Buses/trolleybuses
Edit
Trucks/others
Edit
China Motor Bus was the largest user of Guy buses in the world.
No examples of the Guy Car are known to exist anywhere in the world
Preservation
Edit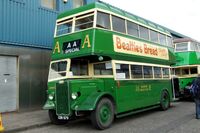 The odd Guy truck appears on the Vintage vehicle show circuit.
do you know of any examples ? Please add details and a photo if possible.
Add your photos here
References
Edit
External links
Edit
Guy Motors Model Range

Under construction - please add missing articles.

Buses
Cars

add links here

Trucks
Military vehicles