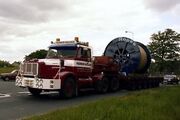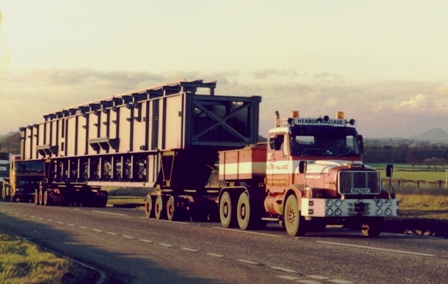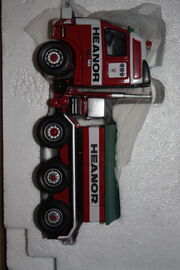 Heanor Haulage or also known as HHT Limited are a leading Heavy Haulage specialist based in Heanor. Heanor is in Derbyshire and not Nottinghamshire. Langley Mill is in Derbyshire too but on the border - which is the river Erewash. I went to school in Heanor and as  kid went on Journeys with some of the local drivers - this back in the late 60's, when they specialised in abnormally long but not heavy loads, and artics and not drawbar,  which was Wynns and Pickfords territory. Perhaps best known for the large premises on Laceyfields Road, Langley Mill. If I remember correctly they also had a Scammell Samson (8x4) for short period too.
Famed for their own 'HHT' trucks, these heavy tractors were rebuilt Scammell Contractors, using a Volvo F88 cab, Detroit 8V92 two stroke engine and Fuller gearbox. In later years, several F16 Volvo's were converted to 4 axle ballasted tractor configuration, for operation at 200 Tons combination weight.

Custom trailers have long been a Heanor speciality - before the modern generation of 'modular' trailers were conceived by the likes of Cometto and Nicolas, the company built a number of one off trailers to enable specific loads to be carried.
HHT Specials
Edit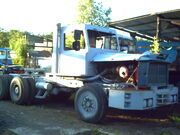 HHT's (Heanor Heavy Transport) were a fleet of custom built tractors based on Scammell Contractor chassis which Heanor Haulage built in the 1970's.
13 speed Fuller' box & 4 speed Spicer, rated for 200 ton operation. The unit was later converted back to a 6x4.[1]
HHT 004 is currently (May 2009) under going restoration, it needs a new cab,wings,grill but the HHT logo is still on it.[2]
Trucks
Trailer fleet
Scale Models of Fleet
Edit
Corgi have produced a number of HH Models - Set no. CC12403 Features FH16's W553 & W554 HJW, multi axle Nicolas modular trailer, and Drier load, perhaps the most impressive in the Heavy haulage series from Corgi.
Special Loads
Edit
Heanor Haulage moved the recently donated 110-RB face shovel for the Vintage Excavator Trust from the quarry it had worked to the museum at Threlkeld, Cumbria, in 2006. This machine had to be split into several loads and only just fitted up the road to the site.[3]
Cranes are a regular load moved for clients such as crane hire firm Weldex who have a major depot near by at Alfreton adjacent to the A38 & the M1 in Derbyshire..
One of the biggest being a Demag CC 12000 sold for export to India.
Other loads being railway locomotives for preservation and more modern ones going to the factory for refurbishment or to the scrapyard.
In 2009 Heanor sold their existing yard for redevelopment and moved to a new facility near by.
References / sources
Edit
External links
Edit