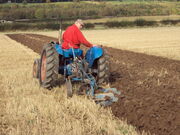 Fordson Dexta - HSH 265 is classic tractor.
HSH 265 is a Fordson Dexta tractor built in ? year.
Ex Eyemouth High School janitors tractor used to roll sports pitch's and light trailer work.
Bought from Scottish Borders Council in 2009 by David Jamieson from Melrose.
He has removed roll bar, front wheel weights, fitted a new set of rear tyres and bought a Ransomes Robin plough to go with the tractor.
He is now the fastest ploughman in the Borders. First finished in two matches.
Tractor will be restored when time allows
External links
Edit
Ad blocker interference detected!
Wikia is a free-to-use site that makes money from advertising. We have a modified experience for viewers using ad blockers

Wikia is not accessible if you've made further modifications. Remove the custom ad blocker rule(s) and the page will load as expected.